24 Hrs On A Plate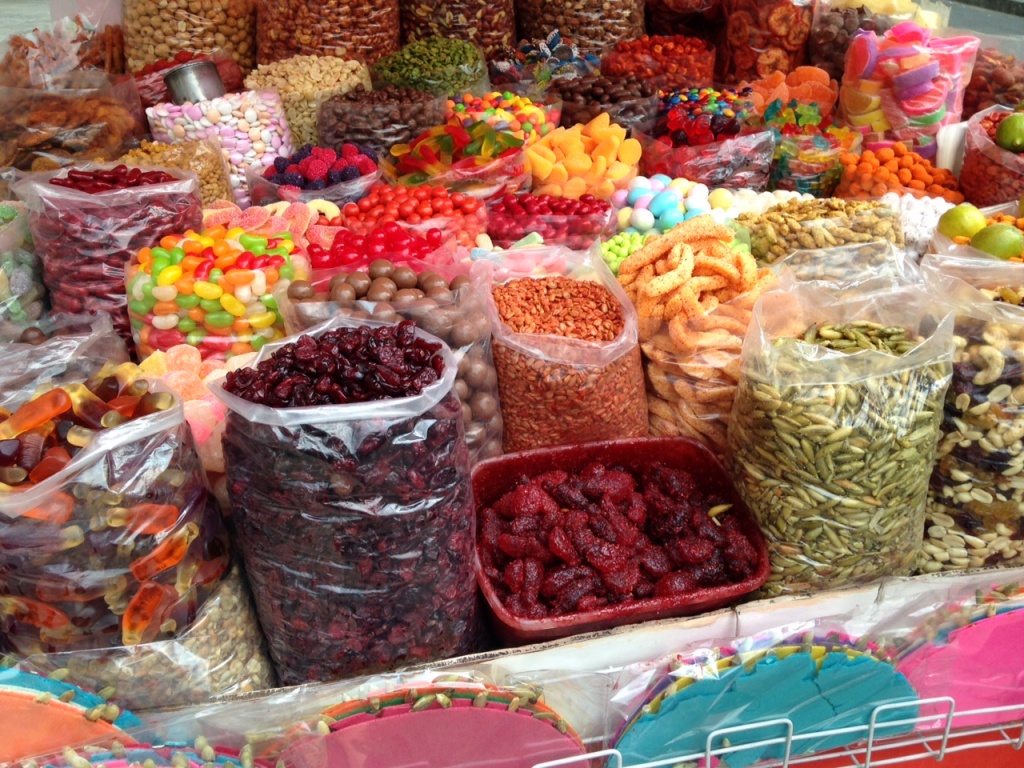 Mexicans live and die by food. When you combine this cult with such a cosmopolitan and hectic metropolis like Mexico City, with a population of over 20 million you get an interesting combination of food options and tastes. The Mexican diet is based on corn as opposed to rice for the western countries or wheat for the Europeans. We swear by the three T's diet: Tacos, Tortas and Tamales. Tacos filled with a variety of proteins, tortas served in a bolillo (a baguette like bread), and tamales made with starchy corn based dough. Just try picturing the city at 2 pm when everybody is having lunch!
7:40 am- A normal day for me starts at 7:40 am, I have an hour to get ready and leave my house. I never leave home without having a healthy breakfast. It usually includes fruit and either quesadillas or eggs. I like my quesadillas (corn or flour tortilla folded in half) with melted Oaxaca cheese and ham, or some huevos rancheros. The huevos rancheros are made of a sunny side egg on top of a fried egg topped with spicy green salsa. It takes me about 30-40 minute to get to work or to my first appointment. Today, there is a big demonstration in Paseo de la Reforma, one of the main boulevards in the city, thus making the traffic extremely heavy. I've been in the car for 45 minutes and I still can't get to the office, this is insane…
9:30 am- The minute I walk into my office I call the local coffee shop for a café de olla a traditional Mexican coffee served in a clay pot that is usually enjoyed during cold mornings. This coffee has a distinct flavor thanks to the combination of cinnamon and piloncillo (unrefined whole cane sugar). During the first few hours of the morning I check all unread emails and get any urgent matters done. I am constantly reaching out to media outlets to secure interviews or publish articles that talk about my clients. Today I am trying to coordinate a press trip for next week to Ixtapa-Zihuatanejo, a well-known beach destination in Mexico. I really hope I get to go on this trip to enjoy some of their amazing fish and seafood dishes that you find in Ixtapa, such as pescado a la talla (a delicious grilled fish with a chiles sauce), plus I need a vacation!
12:00 pm – Halfway through the morning I take a break and go out for a snack. After having lived in various cities around the world during the last few years, I really missed the traditional Mexican snacks the city offers. I usually buy homemade fried potato chips with Valentina (chile sauce) that are sold on the street. Foreigners, fair warning, watch out for these kinds of snacks, they can get extremely spicy. If I am in a healthier mood I buy some jicama (a kind of yam bean) that is eaten often as a snack with drops of lemon.
12:15 pm- I return to my desk to follow up with a few media contacts, praying they will confirm their participation to the trip next week. I also manage to write up the agenda for my weekly PR meetings with one of my clients. I hope I remember all the pending stuff I need to talk about, I always remind myself I should write a Post-It to make my life easier!
2:00 pm- I am out of the door ready to enjoy lunch with friends. Some might say "wait a minute 2:00 pm is extremely late for lunch!" well us Mexicans have lunch pretty late and usually take a two-hour break. On Fridays like today I meet up with friends who work close by. We catch up, try out a new restaurant (so I can write a review for my food blog) and start planning our weekend. Today, we decide to try Azul, a Mexican restaurant in La Condesa by renowned Chef Ricardo Zurita. We start drinking some mezcal and for lunch I get the chiles en nogada that is the seasonal dish for this time of the year when we celebrate Mexican Independence. This dish consists of poblano chiles filled with a mixture of meat, fruits and spices topped with a walnut-based cream sauce called nogada. One of my friends prefers the chicken with mole sauce. Today we have a friend's wedding so we talk about what dress we are wearing and how we are going to get our hair done. I still can't decide what dress to wear, hope my sisters help me decide later on…
4:00 pm- I arrive to the Four Seasons Hotel Mexico D.F. (one of my top clients) for a photo shoot. This time it is with a food magazine that wants to write an article of Pan Dulce, the new pastry shop in the hotel. While the photographer is taking pictures I answer any urgent emails before the weekend starts. Since I didn't get any dessert in the restaurant I order a concha, (a typical shell-shaped Mexican pastry with a vanilla based sugar shell on top).
6:00 pm- At 6:00 pm the shooting is done and the weekend has started! I have two hours to be ready for the wedding. I am not sure how I am going to be ready in so little time. I get in the car and pray that the traffic has settled down so I can get home quickly. I turn on the radio and start laughing at the dumb things the radio host is talking about. Mexicans in general spend so much time in traffic that radio stations need to talk about entertaining stuff to make time more enjoyable. While I am stuck in traffic I can see several people in the middle of the street selling obleas (thin wafers with sugar) and gorditas de nata (sweet English-muffin type of bread).
8:00 pm- I arrive to the wedding ceremony right in time to catch Daniela walking down the aisle. She is one of my best friends from college so I have been hearing about this wedding since their engagement months ago. At the reception follows, there are 700 invitees; you can imagine the size of the ballroom, its just gorgeous. The whole room is filled with white flowers and silver furniture; whenever I get married I want it to look like this. Dinner includes a tortilla soup and a fish fillet with tomato sauce and green olives. After dinner I get to enjoy time with friends drinking tequila shots copiously for several hours.
6:00 am- By the time I look at my watch its already 6:00 am and green chilaquiles are being served. Chilaquiles are a popular breakfast dish with fried tortilla squares topped with green or red salsa, cheese and sour cream, yummy! It's the perfect dish to cure the terrible hangover I will probably get when I wake up. I know I will probably spend all day feeling tired but as we say in Spanish, "Lo Bailado Nadie Te Lo Quita" or what you danced and enjoyed nobody can take it away!
This article was originally posted in the Now Magazine a project by PepsiCo's community of leading-edge creatives across 15 of the most exciting cities on earth. To learn more about the project visit https://thesensenetwork.com/
---