Peking Duck at Da Dong Beijing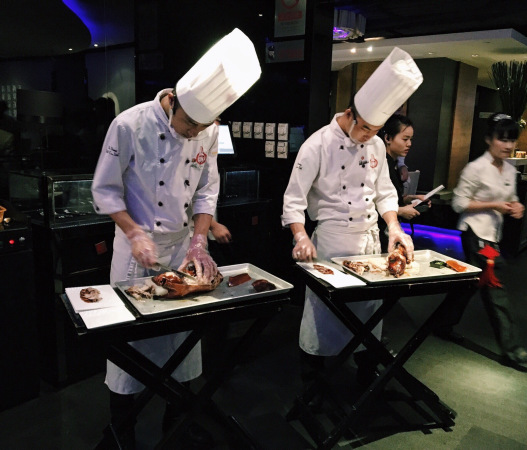 There is no way you can go to the birthplace of the Peking duck and not make an event out of eating duck. Of course you can imagine that for our foodie family deciding what restaurant we were going to, was a huge deal. After asking around and doing our research, we decided on a restaurant called Dadong.
This restaurant is widely popular in Beijing. When we told our guide that was where we wanted to go he was surprised that we even knew about it because it is famous especially among locals, but he agreed that it was the best place to eat duck.
Off we went to the restaurant in one of the most polluted nights of Beijing, and when we arrived, we realized what out tour guide meant. The restaurant was full of local people and there were only about three tables of Westerners. The restaurant is similar to a dining room in a big cruise ship, its very big with large tables and modern decoration (great if you are going with a big party).
As soon as you go in, you can see the area where the ducks are being roasted, which is quite amusing and your mouth automatically starts to water. The tour guide told us to get one and a half duck for six people, but if you enjoy duck and are quite hungry, you can definitely manage two ducks.
Once we ordered, a chef comes to slice your duck next to the table and serves the meat separate from the fat, which is great because you get to pick the fat-meat ratio when building your duck "taco". Needless to say, the duck was spectacular. My mouth is watering right now from remembering what it tastes like.
We also ordered a spicy beef that was recommended to us and written down in Chinese in case the waiters didn't speak English. It is called Chigiao niu zai li and was recommended by our local tour guide. This is one of the best beef dishes I have ever tried, just be careful  because it really is spicy. A must if you like spicy food! The rice noodles were also a big hit in the family, be sure to get those as well.
For desert, we ordered a tiramisu with truffle oil, which we had a big debate about if the truffle oil was artificial or not. Either way this dessert was outstanding!  We also ordered passion fruit pudding with white chocolate shavings and did not regret it.
We left the restaurant extremely happy, and would definitely recommend this restaurant to whoever is going to Beijing in search of the best Peking duck. Da Dong is named one of the top 10 Peking Duck restaurants in Beijing.  Just be sure to make a reservation so you can enjoy Da Dong's delicious flavors.
---