La Zaranda Miravalle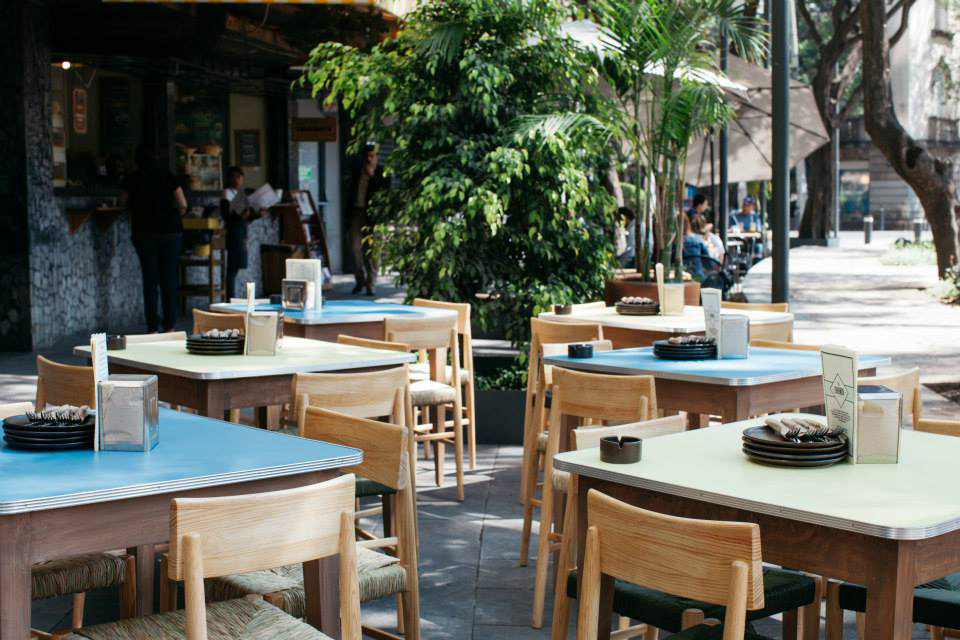 Mexico City has wonderful weather year-round, with lots of sunny days. If one of these days you are in the mood for a trendy place to eat overlooking a terrace, look no further than the Cibeles fountain. La Cibeles is a beautiful remodeled fountain (an exact replica of the one in Madrid) that sits in a big roundabout in La Roma neighborhood in Mexico City. Around the fountain you can find a variety of restaurants with outdoor seating. This area of the city transports you to any European city such as Paris, London or Madrid where one can dine while overseeing important historical monuments.
In one of the corners of La Cibeles, you will find La Zaranda Miravalle next door to the famous Cancino Pizza's, which is actually part of the same company called Archipielago. This restaurant group that started out doing pizzas ventured into a new type of cuisine and opened La Zaranda Miravalle a restaurant that specializes in fish and seafood.
I ended up having lunch here by coincidence as I was walking around the area, the restaurant was hopping and I decided to give it a try… well I liked it so much I went back the following week!
This restaurant is inspired by recipes from Nayarit, a state on the western coast of Mexico close to Puerto Vallarta. La Zaranda serves traditional dishes with octopus, shrimp and fish using the zarandeado technique. This Pre-Hispanic technique is done by grilling the fish or seafood to keep the food with a great flavor without the need of frying it.
Don't miss the dobladitas with cheese and beans and the toasted tortillas with the variety of salsas they serve to begin your meal. After these starters, I recommend getting the shrimp aguachile. I'm not exaggerating by saying that this is one of the best aguachiles I have ever tried in Mexico City. The combination of the sauce with the cucumber and purple onion make it sour, spicy and just so refreshing!
As a main course I would suggest getting the zarandeado fish to share amongst your party. It is served with a side dish of your choice and some tortillas so you can make fish tacos and prepare it with your favorite salsa, whether it's the green salsa, the one with chipotle or the spiciest option with habanero and lemon.
If you are not a big seafood or fish fan, don't worry; there are several menu items such as the plátano macho (plantain) soup and the cecina (salty meat) tacos.
For those who love dessert as much as I do, there are two amazing options you should order. The first one is a chocolate mousse with pretzel sticks on top; the sweet and salty flavor is to die for. If you aren't willing to go so unconventional try the plantain with sour cream and sugar, a traditional Mexican dessert.
This is a perfect restaurant to go with a group of close friends and sit in the terrace overlooking the Cibeles fountain; reservations are necessary especially for the tables outside. Enjoy the flavors La Zaranda Miravalle offers and let me know what dish was your favorite one!
http://archipielagocorp.com/zaranda.html
---