Cocina Abierta: 15 Food Concepts Under One Roof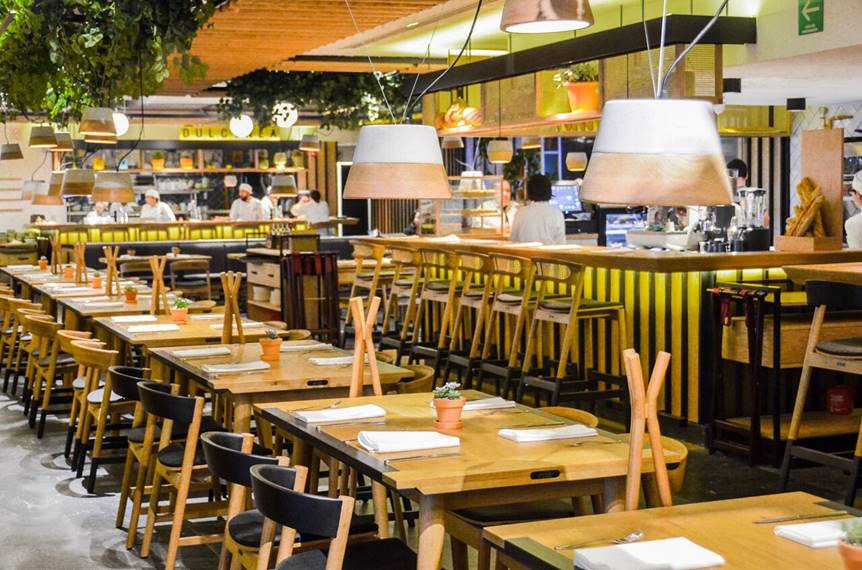 We've witnessed the growth of gourmet foods markets over recent years in Mexico City, which has expanded the city's culinary scene. These establishments offer a wide variety of foods at the number of stands they contain, and have become frequently visited by locals and tourists to enjoy a nice time with friends and family.
Cocina Abierta opened last month, a new concept where instead of making you stop at each stand, guests order from a menu that gathers all 15 kitchens within a single business. These 15 culinary concepts originated in our country, and were especially selected to offer the best variety of foods in Mexico City.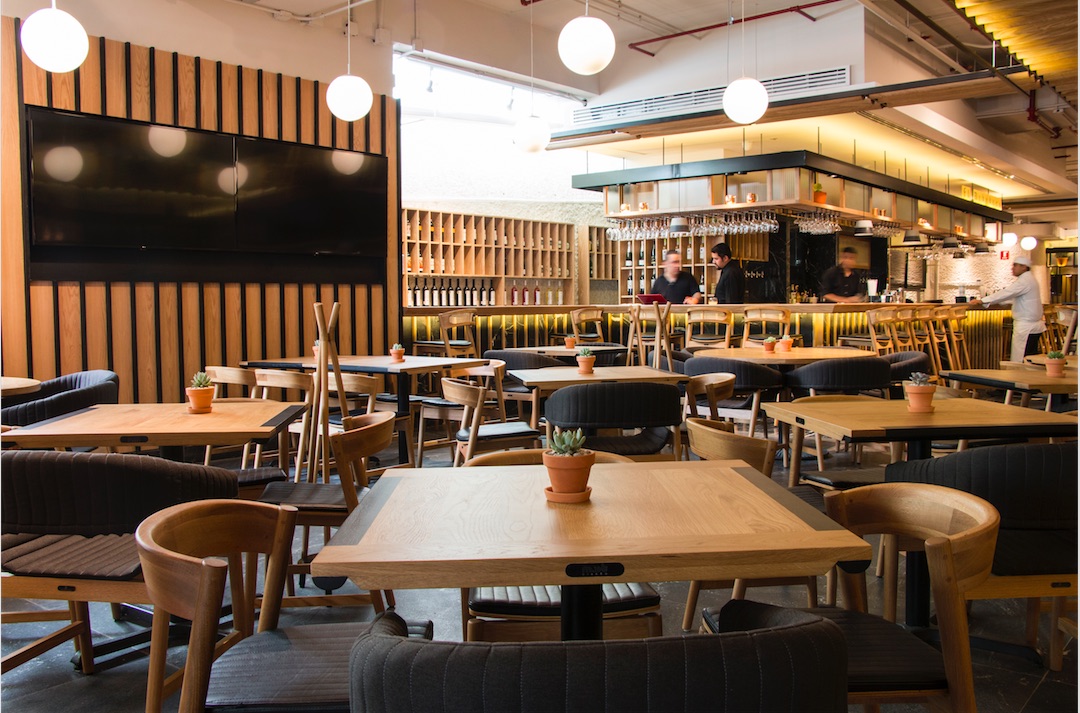 Cocina Abierta has just inaugurated its first restaurant in the basement of Torre Virreyes, better known as the "Dorito", one of the most modern and high-end buildings in the city. A vast and cozy area with an innovative interior design, where all elements, including tables, floors and ceilings are made in wood with black accents in the form of chairs and hanging lamps throughout the site. The signs of each kitchen resemble a Scrabble game, adding a fun touch to the place's décor.
If you visit Cocina Abierta on your own, I suggest sitting at the bar of any stand in order to get to know a bit more about the way restaurant kitchens work and interact with the talent behind them. The menu was created to satisfy all of the guests' cravings. The menu, as you might imagine, is quite extensive, I suggest you read it calmly to perceive the vast variety of dishes they offer, and order accordingly.
On my visit to Cocina Abierta I tried a bit of everything but, as expected, I failed to try every single concept. From my experience, I suggest starting with the Dulcinea artichoke, a dish that never fails, and the grilled beet with yoghurt and parmesan from Brasafina. For the main course one of my favorites was the original hamburger from Butcher & Sons, and the grilled salmon from Brasafina.
If you love sweets, Cocina Abierta will be your paradise. Among candies in bulk and an vast menu, you'll find more than 50 desserts of all kinds. No doubt, my favorites were the ice creams from Beccogelato, the Nutella crepes from La Crêpe Parisienne, the red fruit macaroons from La Boheme, and the popcorn from Timbal de Azúcar.
For those of you who seek other options, here is a description of each concept you'll find within Cocina Abierta:
Moshi Moshi- The founders of conveyor belt sushi in the country, at Cocina Abierta they offer a menu with their most loved dishes, and a traditional nigiri and ramen proposal.
Matilde- For sandwich lovers, here you will find a vast selection, the standouts are French Dip, and the Portobello sandwiches.
Butcher & Sons- Pioneers of gourmet hamburgers in Mexico, they offer a selection of their most successful hamburgers.
La Poblanita- For those in search of high-quality Mexican appetizers, here you can enjoy moles, pipianes, chalupitas and other delicacies from Puebla.
Zapote- Under the slow food trend, they offer a fresh pastas, and handmade stone oven pizzas.
Dulcinea- Offers a fresh proposal of urban cuisine known for their international techniques with Mexican ingredients.
Brasafina- They propose a concept of food on the grill, where the quality of the raw materials, and the perfection of the cooking process speak for themselves.
La Boheme- Their pastry and bakery offer fuses French artisan techniques with the freshness and quality of Mexican ingredients.
Básico- The perfect choice for healthy eaters, here you will find a juice and food option that seeks the perfect balance between health and flavor, using fresh ingredients with a high nutritional value.
Buna- If you love coffee, Buna has created the best specialty coffee bar in the city, a company committed to developing and promoting the fair trade of Mexican coffee, and to prepare "tasty coffee" every single day.
Beccogelato- Taking the Becco experience to the Italian artisan ice cream world to offer a selection of eight seasonal gelato flavors.
Churrería del Carmen- This traditional churro shop, with over 40 years of experience, brings all the way from San Angel the churros and chocolates that take the entire tradition to a whole new level.
Timbal de Dulce- The experts on the city's best candy tables, they offer fresh and different creations, including flavored popcorn, candies with chile, and many others.
La Crepe Parisienne- Inspired by the crêperies on the streets of Paris, they offer a sweet and savory crepe menu to enjoy at your table or as take out.
El Bebedero- This place is ideal to enjoy a vast selection of draft beer and wines by the glass, as well as an innovative cocktail menu that combines traditions with current trends.
Cocina Abierta is the new hotspot in Lomas de Chapultepec, a place with a good ambiance and an excellent variety of foods and beverages. It is worth noting that this is the first of three restaurants to be opened by Cocina Abierta over the following three months in Mexico City, so be on the lookout for the next openings at Parque Duraznos and Torre Reforma.
http://www.cocina-abierta.com/