Less is More: 3 New Boutique Hotels in Mexico City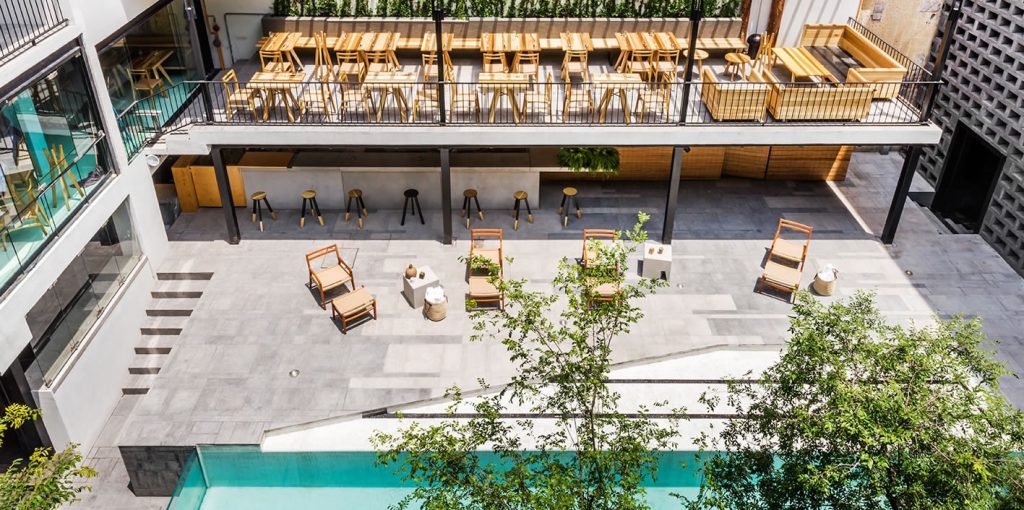 Looking for a place to stay in Mexico City, but not a big fan of the typical hotel chains? Don't worry! We looked into some of the newest boutique hotels in the city and these are our top picks.
These three boutique hotels are ideally located for tourists, businessmen and even for a weekend getaway with your other half.
Hotel Carlota
What used to be the Hotel Jardín Amazonas in Cuauhtémoc neighborhood, was completely transformed a year ago into a modern urban space combining Mexican design and architecture. Carlota is ideally located for those who work near the Reforma corridor or want to visit the tourist attractions near the historical center. The hotel's design led by Javier Sánchez, was done in such a way that it blends the old aspects of the hotel with the new modern details. Some examples are the old freight elevator, the concrete walls and the ultra-modern glass swimming pool in the middle of the patio. The hotel features 36 rooms including one double bed room and suites with terraces.
Carlota, has an outstanding restaurant where Chef Joaquin Cardoso, who has previously worked at renowned restaurants including Noma in Copenhagen and Pujol in Mexico City, offers organic and sustainable dishes. Although the menu changes constantly, one of my favorite dishes this year so far, was their bonito tataki with clamato slush. If the weather is nice enjoy the terrace overlooking the patio, or take a dip in the amazing swimming pool. Believe me you will want to take a picture while you are inside!
Rooms start at $200 USD plus tax
Where: Río Amazonas #73  Tel: 5511-6300
Busue
The childhood home of Lolita Ayala, a well-know Mexican journalist and anchor woman, was redesigned to be a small boutique hotel one block away from Lincoln Park in Polanco neighborhood. This location is perfect for guests who work in Polanco or for those who want to visit tourist attractions nearby. The hotel originally opened with a different name and became Busue two years ago, the name was chosen because rumor has it that Eugenio Sue a French author and the name of the street where its located, was handsome ( beau in French) and to simplify the pronunciation they decided to name it Busue.
The hotel has 11 luxurious rooms including a presidential suite which they call Lolita because of the owner. The rooms are extremely spacious with walk in showers and ample bathrooms, keeping the traditional Mexican design and architecture of the house. Although the hotel has no food outlet, they do offer breakfast and room service from Dixon the restaurant/bar on top of Busue.
Rooms start at $200 USD plus tax
Where: Eugenio Sue # 45    Tel: 6650 5916
Pug Seal Polanco
The second property of a new boutique hotel chain in Mexico City, Pug Seal opened its doors in February of 2016 in the heart of Polanco neighborhood. Perfect for guests who work near Polanco or for those who enjoy shopping on Masaryk street. The hotel is composed of two different buildings, the main house which used to be the Air France offices and a separate more modern building in the back where you will find a large portion of the rooms. In total there are 21 rooms, modern and spacious decorated with Mexican furniture and art.
The whole concept was conceived so guests feel at home in a relaxed, casual atmosphere. Pug Seal offers daily breakfast buffet in the main building's restaurant and allows guests to use the public areas as meeting rooms if needed.
Rooms start at $220 USD with tax
Where: Edgar Allan Poe # 90   Tel: 7572.1142
http://www.pugseal.com/polanco
More boutique hotels in the city which are not as new, but worth checking out are: