Quintonil by Chef Jorge Vallejo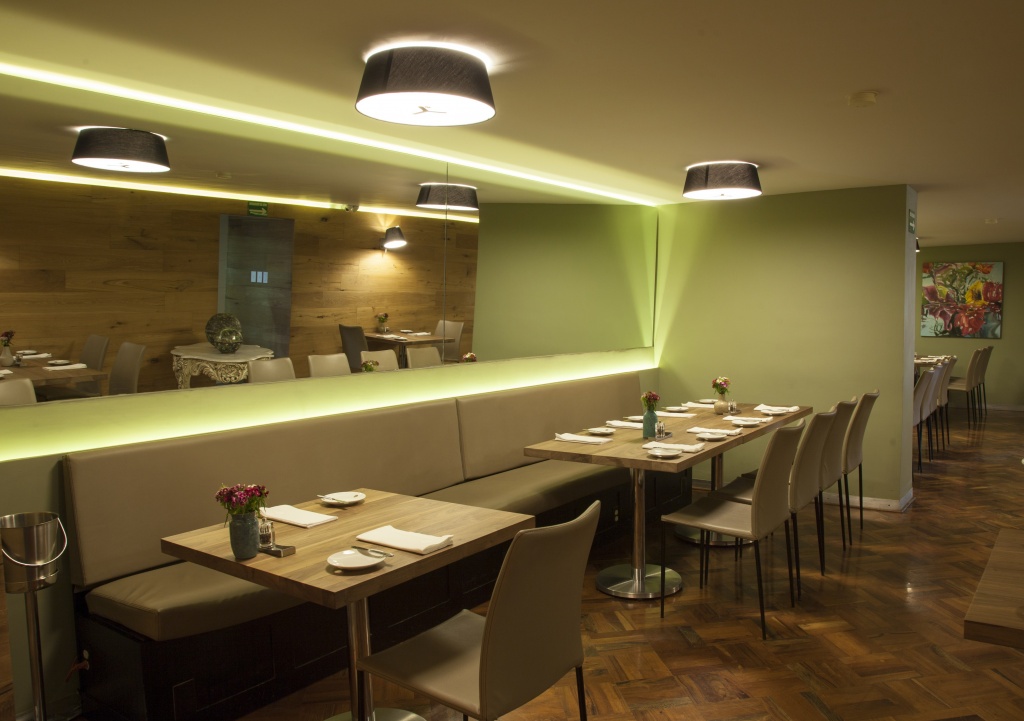 If you consider yourself to be a picky eater and don't like to try new and different flavors, stop reading. Quintonil is definitely not for you. On the other hand if you love to discover and experience unique gastronomical outings, keep going, you are going to love this restaurant.
Quintonil opened in 2012 in the heart of Polanco neighborhood in Mexico City, where one can find some of the most interesting gastronomical proposals in the city such as Biko and Pujol, named best restaurants in the world by 50 Best Latin America's Restaurants. Quintonil was founded by Chef Jorge Vallejo and his wife Alejandra Flores. Chef Vallejo worked in a number of renowned restaurants such as Pujol and Noma in Copenhagen and was Executive Chef of the St. Regis Mexico City. Alejandra Flores has extensive operations experience from working for four years in Grupo Enrique Olvera as the Director of Operations for all his restaurants.
Together, this couple opened the restaurant where they offer diverse flavors and techniques of modern Mexican cuisine,  they use ingredients from small producers to embrace a homemade meal. The philosophy of the restaurant and whole purpose is that any person that goes into Quintonil, comes in as a client and leaves as a friend. While enjoying the food, one can feel that the whole concept of the place revolves around the study and expression of Mexican herbs, expressed in the preparation of their sauces, dishes and presentation.
I had been wanting to go for a long time and finally had the opportunity to visit the restaurant. To be honest, its the kind of place where you take a look at the menu and can't understand the majority of its descriptions. Although I am a native Mexican I had to ask several questions! So foreigners, be patient the waiter will answer any doubts you might have.
I ordered the crab tostada with lime, radish and habanero mayonnaise to start of with, and then got the duck with black sauce and yellow turnip. At the beginning our our meal, we where served  some nopal (pad of the cacti) ceviche on the house and then when we finished our main plate they offered us some nopal ice cream to cleanse our palate before dessert. For dessert I ordered the mamey (type of fruit) pudding with ice cream which was delicious! Everything we tasted was outstanding in flavor, the different ingredients Quintonil uses create an interesting mix of taste. What I enjoyed the most was the presentation of all the dishes. They are served like art pieces, you don't want to start eating the dish and  screw up the amazing design.
Some dishes that you might find interesting to taste include the tamal with amaranth and salsa verde as well as the pork with pipian (type of mole) with avocado, ants ( yes, you read right) and bean puree.
Quintonil was recognized earlier this week with #6 out of the 50 Best Latin America's Restaurants for 2015 and the highest ranked restaurant in Mexico! This proves the quality and dishes the restaurant offers to their clients. I strongly suggest all gastronomy lovers to visit this place in Mexico City. Foreigners especially, don't miss out on this unique and special gastronomical experience. If you are staying in any of the hotels in Polanco this restaurant is just a short walk.
---