5 Things To Do In Mexico City in May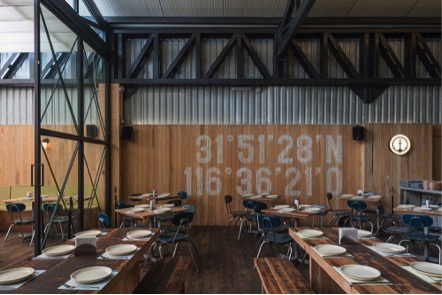 Mexico City has seen without a doubt, a huge number of new restaurants and bars opening every week. With so many new additions, it is hard to choose where to go and what to do. Here are five things you can do during the month of May in the city, planned either for locals or foreigners who want to discover new and trendy restaurants, bars and art galleries.
TEO LUNCHEONETTE

You can start the day by having breakfast at Teo Luncheonette, a new place serving healthy food in la Juarez neighborhood, an up-and-coming area in the city. Their French toast and green egg plate with brioche, pesto and serrano ham are outstanding and their coffee is brought in from Buna Café, one of the best coffee shops in the Roma Norte neighborhood.
Where: Havre 83, Colonia Juárez  Tel: 5207 8503
KURIMANZUTTO GALLERY

Take a bike ride or stroll down to Karimanzutto Gallery, a contemporary art gallery that opened in 2008 near Chapultepec Park. Since the early days of this contemporary art gallery, they focused on backing up-and-coming young Mexican artists. Nowadays, the gallery represents 31 Mexican and international artists and continues to support exhibitions in diverse cultural spaces while welcoming risky projects that are rarely seen in commercial galleries. Although the pieces and exhibitions inside are great to look at, the building is a piece of art by itself. It was designed by renowned Mexican architect Alberto Kalach, who transformed what used to be an industrial bakery into a large exhibition space conserving the wooden ceiling and ample natural light. Don't miss this months sculptural exhibition where Jennifer Allora and Guillermo Calzadilla place acrylic lecterns that serve as support to display dinosaur bones.
Where: Rafael Rebollar 94, San Miguel Chapultepec  Tel: 5256 2408
CAMPOBAJA

For lunch, you should try one of the new staples in Roma Norte: Campobaja. Their fresh seafood and produce from northern Mexico allows Chef Ezequiel Hernandez to create great ceviches and tostadas. Make sure to try the sea urchin plate and the oysters from Ensenada. The terrace is a great place to drink a few beers and catch up with old friends, especially when the weather is nice.
Where: Colima 124, Roma Norte Tel: 7091 5660
LUCIFERINA

A great option for dinner and drinks is Luciferina, located in the Juarez neighborhood a few blocks away from Paseo de la Reforma. The space is carefully decorated with reused wood and metal and the circular 360º bar is impressive. The menus are given to you inside old books with astrological illustrations, which I found extremely unique. For dinner, be sure to get the roasted tomato soup and gnocchi. For drinks get the fixed moon with bourbon, guava, mint, lemon juice and soda while you enjoy the music this bar plays.
Where: Lucerna 34, Colonia Juárez  Tel: 5535 4424
XAMAN

Xaman a hidden bar in la Juarez, is one of my favorites because of its laid back and discreet location in the basement of an office building that has no exterior signs. Once you're in, the first thing you'll see is a big wooden bookcase with medicinal plants and crystal jars. The music is amazing and their signature drinks where they combine Mexican ingredients such as agave syrup and coriander, make it a great place to start the night before heading out to any of the parties or clubs that are always happening in Mexico City. Be sure to check Xaman's social media where they announce the DJ's that are playing and any special events they host during weekends.
Where: Copenhague 6, Colonia Juárez  Tel: 5511 0396
Cover picture courtesy of Arch Daily
Adolfo Lópezserrano is a travel and photography enthusiast. He currently works in a Public Relations agency in Mexico City and as a hobby founded Man With Map, a travel and lifestyle blog. Follow him at @man_with_map