A Waffle Heaven: Le Munchieri
What do you call it, when you have a deep desire for food or crave a particular dish?: the munchies. This is where the name of Le Munchieri came from.
Le Munchieri, is a new restaurant in la Roma neighborhood, which specializes in sweet and savory crepes and waffles. The owner Candela Montero, originally from Madrid arrived in Mexico City with a different project in mind, but after meeting a group of friends, they all became partners at this new business. Candela was inspired by La Creme de Paris, a small restaurant in Paris serving waffles and crepes, she adapted the dishes to fit the Mexican culture and taste. She together with Chef Ana Leticia Luna, executive chef of Little Mommy, a restaurant in El Pedregal neighborhood, created the menu which includes crepes, waffles, milkshakes and even ice-cream sandwiches.
After the food feast I had visiting Le Munchieri, here are my recommendations:
For those who prefer a lighter meal, go for the La De Rubén crepe with smoked salmon, arugula, avocado, asparagus and chipotle dressing. This is not the typical crepe, think of it more like a burrito because its rolled up. You can ask for the low carb dough to get an even healthier option, this dough is made with oatmeal and brown rice flour, egg white, skimmed milk and Stevia and tastes just as delicious as the standard dough!
If you are more into waffles, get the El De Candela, with chicken and vegetables. This waffle is similar to a pizza, as the ingredients are on top and the the dough is prepared with cheese and tomato, giving it a unique flavor.
Are you interested in breakfast?  Le Munchieri offers El De Ignacio, the perfect savory waffle for breakfast. Cooked with two sunny-side up eggs, bacon and ham this is a great option to start your day! Combine it with a fresh pressed juice, my personal favorite was the Vitamina made with orange, guava and pineapple.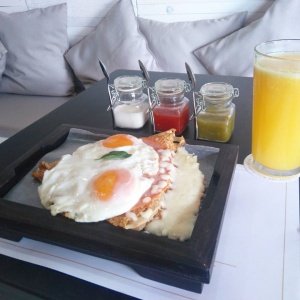 For dessert, get ready for the calories.  El De Sofia waffle,  with Nutella, strawberry, banana and vanilla ice-cream on top is to die for. If you prefer a smaller portion they offer mini waffles or waffle sticks with a variety of dips that include Nutella, dulce de leche and jam. If you are visiting the restaurant with kids, a great option is the cookie burgers (ice-cream sandwiches) where they are able to choose what cookie and ice-cream flavor they prefer to get.  I highly suggest you order one of the milkshakes they serve whether it's the strawberry or Oreo flavor, believe me it is worth every calories.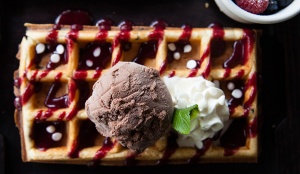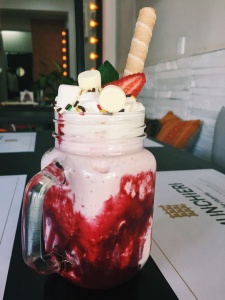 For those of you who live or are staying close by, I have some excellent news! Starting next week Le Munchieri will be offering delivery through the Rappi app. You won't have to leave your house or office to indulge in these amazing waffles and crepes.