It's been said that a New Yorker could go out for 3 meals a day, for his entire life, and never eat at the same place twice. There are SO many restaurants in New York City and the turn over rate is high. Every day a dozen places close their doors and a whole slew of new restaurants open. While we love trying the new hot spots, undoubtedly serving the sexy dish-of-the-moment, having a handful of tried and trusted favorites that never disappoint is important. I asked Compass + Twine who are local New Yorker's to share their top 10 lists. Out of the thousands of eateries in Gotham, they narrowed it to their 10 favorites that never let us down.
EMILY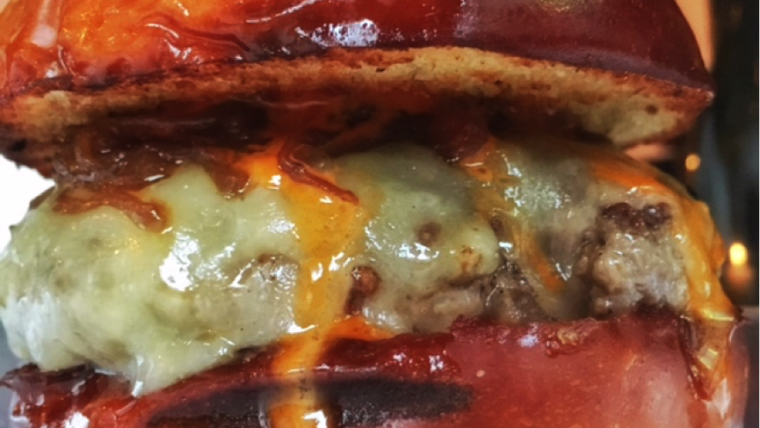 How often does one restaurant perfect TWO different comfort food staple? We don't know who the real Emily is, but we'd like to give her a big smooch. Not only does she make one of best burgers we've ever bitten into, but she nails the pizza pie too.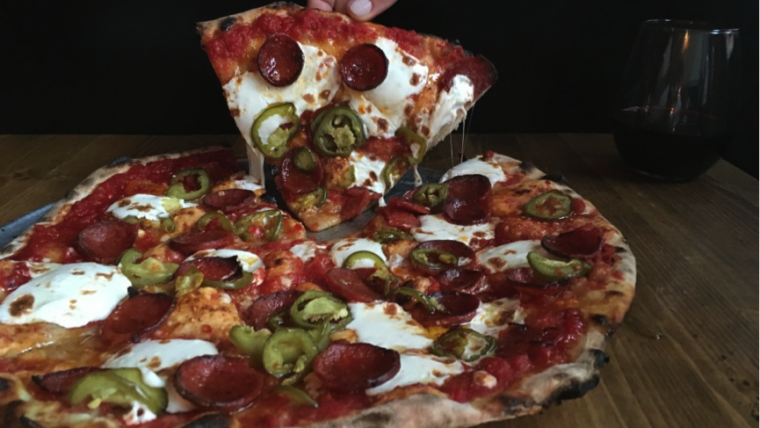 Both are her specialty, and both are sensational. Emily's burgers or pizzas have made it on to just about every 'best' list you can think of. Most recently, the Village Voice voted the burger as the best in NYC for 2015. Not a small feat. When there is a line outside of any establishment, you can typically gauge the true quality of the place by the number of returning patrons willing to wait in that line. If you've be to Emily's once, it's a pleasure to wait in that line again. A few bites into that first meal and you'll decidedly wait an hour for a single bite, walk 10,000 miles for another slice, and perhaps sell a kidney for a swig of that Emmy special sauce. What? No, really. Emily, we can't wait to see you again.
GET THE: Emmy Burger + Colony Pizza
BABBO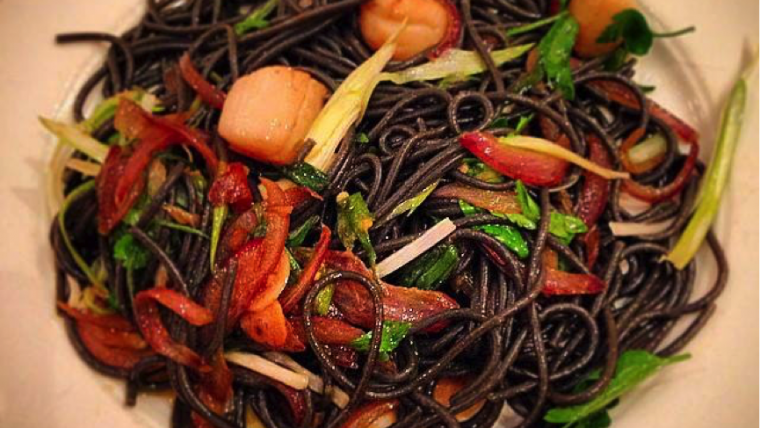 "An exuberant celebration of the best Italian food, wine and lifestyle". Sometimes when you read a restaurant's description of itself, you'll find that it's a little over the top. Not in this case. Nobody, in our minds, does fine Italian dining in NYC better than Mario Batali's Babbo Ristorante. Batali opened Babbo in 1998 with restaurateur Joe Bastianich (think TV's Restaurant Startup and MasterChef). Together they created one the city's highest caliber dining experiences. Once you sip down your silky Barolo, it's on to the feast. All of the homemade pasta dishes are outstanding and they're really what the restaurant is best known for. Our favorites include the Beef Cheek Ravioli, the Black Spaghetti with Rock Shrimp and Spicy Salami Calabrese, and the Linguine with Pancetta, Clams and Hot Chilis. Next, you can't go wrong with the Fennel Dusted Sweetbreads or the Grilled Pork Chops for a main. When in Rome, make sure to enjoy your dessert too. The Olive Oil Cake is enchanting and best paired with a nice desert wine recommended by your new Sommelier friend.
GET THE: Beef Cheek Ravioli, Black Spaghetti with Rock Shrimp and Spicy Salami Cal-abrese
THE SPOTTED PIG
Does it get any better than this place? Our opinion: no. The Spotted Pig was the first gastropub to open in NYC back in 2004 and there's been a line out the door ever since. At any given time, you'll likely rub elbows with a celebrity… literally. Even with an upstairs, the restaurant is small and the seating cozy, but that fits the vibe of the Michelin-starred spot perfectly. They're known for their char-grilled burger with roquefort cheese, which comes with a heaping side of gluttonous shoestring fries. It's one of our favorite burgers in the city. Seriously. C+T co-founder Lindsay even recreated their grilled cheese sandwich with onion marmalade and mustard for her wedding since it's ermergherd-good. Chef April Bloomfield's menu is home-style yet eclectic. For dinner, the gnudi with brown butter and sage is what put Bloomfield on the map. But no matter what time of day you dine at the West Village hot spot, be sure to get an order of the deviled eggs. You can thank us later.
GET THE: Chargrilled Burger with Roquefort Cheese, Pork Rillette, Grilled Cheese with Onion Marmalade, Gnudi with Brown Butter & Sage, Deviled Eggs
TAKASHI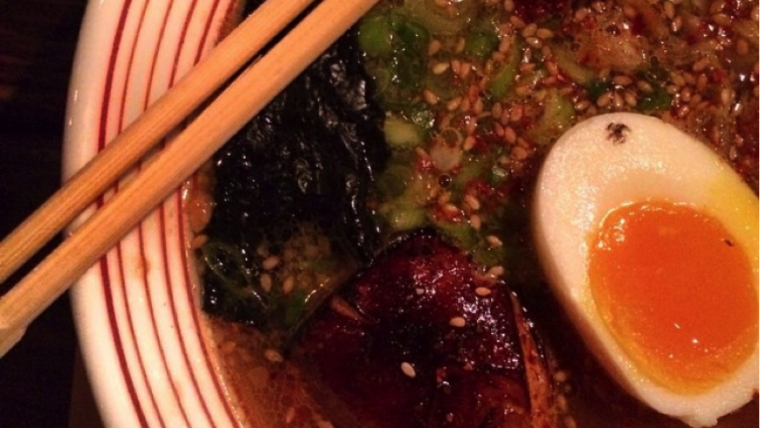 This small, Japanese-Korean-style BBQ joint is hands down one of our favorite restaurants ever. FOR-EV-ER. Raised in Japan, Korean Chef Takashi excels at delivering beautifully marinated, insanely flavorful, high quality cuts of meat, which are then sizzled on your own tabletop grill. The tender Kobe short rib slivers melt in your mouth, while the more adventurous beef cheek, tongue or belly slices will catapult you into epicurean heaven. It's a place. The flavors are superb and the quality of the meat is unmatched. Start with their famous Niku-Uni or delectable steak tartare and pair everything with an always refreshing Orion beer. Late night on the weekends, they serve THE best ramen in the city. It's reason alone to risk being 'hangry' for a few hours to save room for the 11:30pm bowl of noodles.
GET THE: Kobi Kalbi Short Ribs, Steak Tartare, Grandmom's Steamed Beef Shank Buns, the Shio-Tan cut, the belly cut, and definitely the ramen on weekend nights.
RED FARM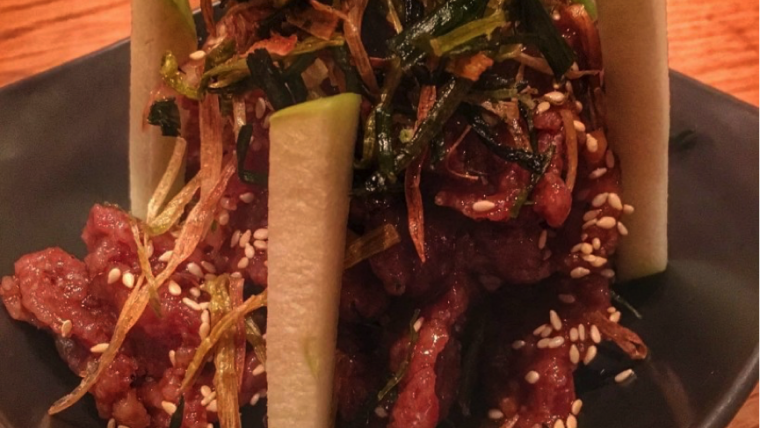 They need a restraining order to keep us away from this place. An exciting and innovative Asian-fusion restaurant, the menu at Red Farm is chock full of interesting options that are guaranteed to please every palate. We're talking Chinese dim sum, dumplings, buns, pastrami egg rolls (which use meat from the famous Katz's deli), and rice & noodle dishes. Our absolute favorite is the Spicy Crispy Beef, which you'll probably end up ordering more than one of during your sitting. No judgement here, we do it too. With plenty of vegetarian options as well as fish and meats, there's something for everyone. The cozy décor of the 1,200 square foot West Village space will make you feel right at home. If coming downtown is inconvenient – no worries – they recently opened a new location on the Upper West Side.
GET THE: Spicy Crispy Beef, Pork and Crab Soup Dumplings, Pastrami Eggroll, Wide Rice Noodles With BBQ's Roast Duck
CARBONE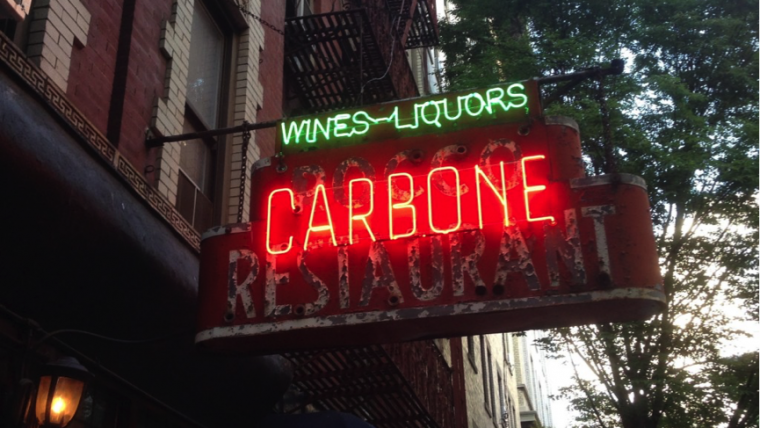 A florescent, yet deceiving, sign with the words "Wine Liquors Carbone" is the only indication that you've arrived at the restaurant. Otherwise, Carbone's facade is dark and nondescript with the hint of a red velvet curtain peeping through the window. Once you walk in, though, and hear Ol' Blue Eyes seeping through the speakers, the experience really starts. The menu at Carbone is so boastfully large in size that you almost feel silly lifting it up to read. It's comprised of all the great Italian classics but with an updated twist. Share the Baked Clams and Lobster Ravioli to start, then hog either the Veal Parmesan or Dover Picatta all to yourself. The portions are generous and the flavors are rich and authentic. Carbone is one of the best Italian restaurants in the city, and it will undoubtedly be a memorable meal.
GET THE: Octopus Pizzaiolo, Baked Clams, Lobster Ravioli, Dover Picatta, Veal Parmesan
BY CHLOE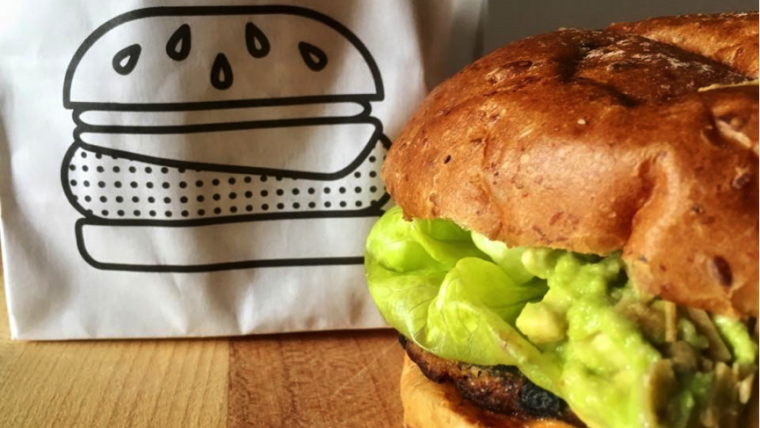 We're meat lovers here at C+T so the thought of falling in love with a vegetarian place seems nutty. Even crazier, becoming the number one fans of a VEGAN restaurant, but here we are leading the fan club of by Chloe. The vegan eatery is focused on fresh, healthy food. A few bites and we swear, you'd never know it was vegan if we hadn't told you. The guacamole burger is comprised of a black bean-quinoa-sweet potato patty and is topped with corn salsa, onion, tortilla strips, and chipotle aioli. Even the most hard-core carnivores will agree that the burger is insane. And there's a bonus. IT'S HEALTHY.
GET THE: Guac Burger, Air Baked French Fries, Pesto Meatball Sandwich, Pull My Daisy Juice Shot
CLINTON STREET BAKING CO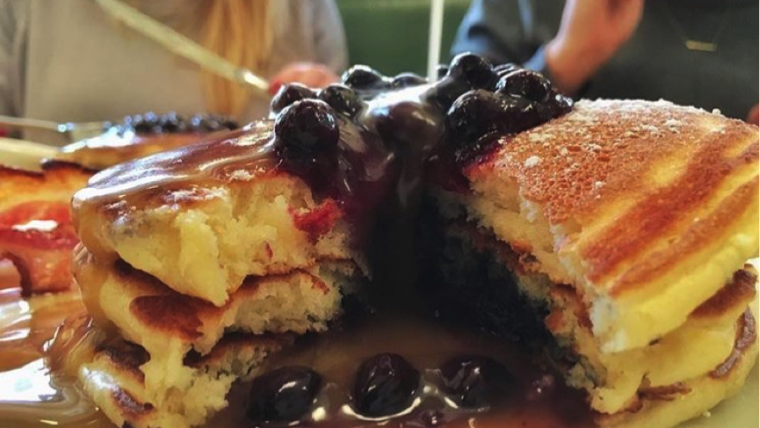 Clinton Street Baking Co. has an entire page on their website dedicated to the dreaded (potentially hours-long) wait usually associated with this beloved Lower East Side brunch spot. We even tried going mid-morning on a weekday and still had to wait an hour. 'Hanger' set in after about 45 minutes, so a scrumptious pumpkin-spice muffin was purchased at the bakery counter to satisfy growling stomachs until we could eventually slide into one of their famed green, diner-style booths. The thing is – if you are a true breakfast lover – the wait is worth it. The moment your mouth clamps down on a thick piece of their Sugar Cured Bacon, your sweet and savory tastes buds go into overdrive, erasing any frustration that might have come about during that long waiting period. Wait, what wait? At Clinton Street Baking Co., the Wild Maine Blueberry Pancakes with Warm Maple Butter probably wins for most popular (and delicious) menu item. The blueberries are fresh, the pancakes fluffy, and the warm, delectable maple butter drizzled on top is enough to make a grown man cry.
GET THE: Wild Maine Blueberry Pancakes with Warm Maple Butter, Brioche French Toast, Carnitas Eggs Benedict, and – most definitely – the Sugar Cured Bacon
https://clintonstreetbaking.com/
POK POK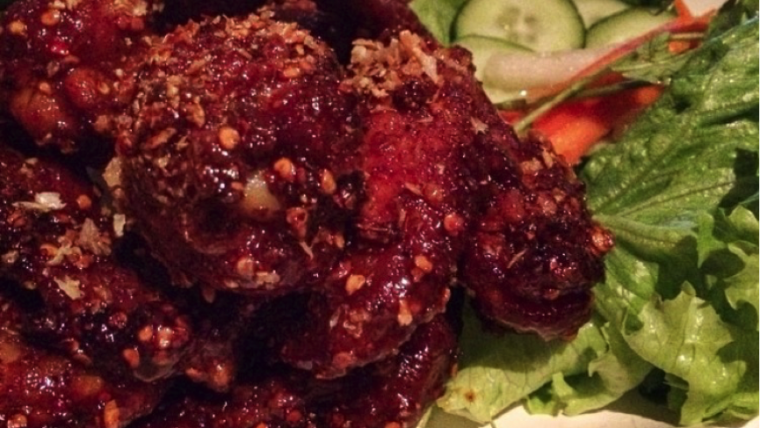 Pok Pok NY opened its doors in 2012 in Red Hook, Brooklyn and captured a piece of our hearts. We've never been able to refrain from ordering their signature Spicy Fish Sauce Chicken Wings in hopes of, I don't know, trying something else! But, you can't – it's just not possible – the spicy wings are out of this world good. The Northern Thai Sweet Pork Belly and Spicy Northeastern Thai Chopped Duck Salad are other favorites that you can't miss. Flavorful foods always need a refreshing cocktail to go down with, so try the Salted Plum Vodka Collins or Yuzu-Honey Whiskey Hot Toddy. In recent news, they just started taking reservations making it much easier to know you'll for sure be able to land a table. Oh, and maybe bring a handkerchief if you can't take the heat!
GET THE: Spicy Fish Sauce Chicken Wings, Norther Thai Sweet Pork Belly, Spicy Northeastern Thai Chopped Duck Salad
RED ROOSTER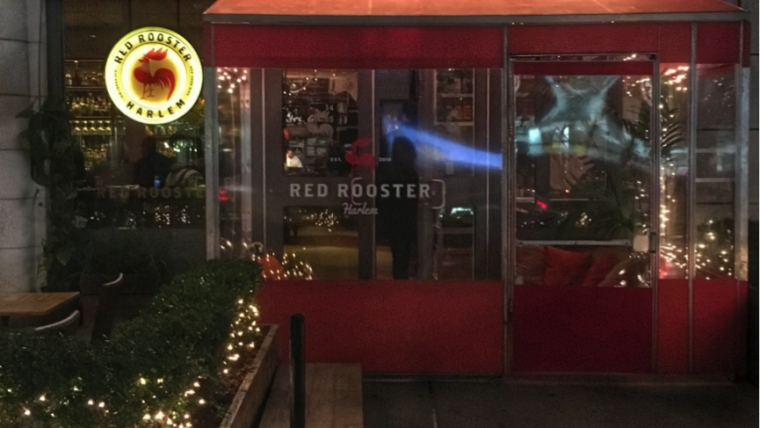 For Downtown Manhattanites, Harlem feels like it may as well be in another state all together. Horror stories of subway delays and bumper-to-bumper traffic kept us away for a while but in the end, we had to try Red Rooster. Surprisingly, the subway was super fast, only about 30 minutes from TriBeCa to our stop, just a block from the restaurant. As fans of Chef Marcus Samuelsson, we had high hopes and he did not disappoint. He seamlessly combines flavors from his native Sweden with the familiar, neighborhood flavors of Harlem. Dishes like the Fried Yardbird seat nicely next to Helga's Spiced Meatballs. The trendy restaurant is lively and inviting – be sure and end on the Red Rooster Doughnuts. Come hungry and bring friends because you'll no doubt want to sample a few good eats!
GET THE: Fried Yardbird, Helga's Spiced Meatballs, Shrimp & Grits, Cornbread, Deviled Eggs, Baby Back Cripsers