This past May I graduated from college in Washington DC and made the big move to New York City. I've been here before many times, but living here I no longer have the time constraint of having to do everything in one weekend and obviously not being able to get everything done. For a while now I have wanted to go to Ralph Lauren's Polo Bar, the new restaurant behind the RL store on Fifth Avenue, after several attempts to reserve and secure a spot I finally got around to it. It definitely did not disappoint.
When you arrive, you are greeted by a dapper young man at the door who asks for your name to check your reservation. Let me say that when it opened it was nearly impossible to get a reservation, you had to call weeks in advance and know somebody there to secure a spot at a rather decent time. Upon entering  you proceed to a bar full of people styled exactly like you would expect a Ralph Lauren bar to look like, even the waitstaff are outfitted in RL grey flannel trousers, leather wingtips and silk repp ties. Here you wait for the rest of your party sipping on some great drinks. I ordered a Moscow Mule with vodka, ginger and lemon because it was scorching hot outside and oh boy it was delicious.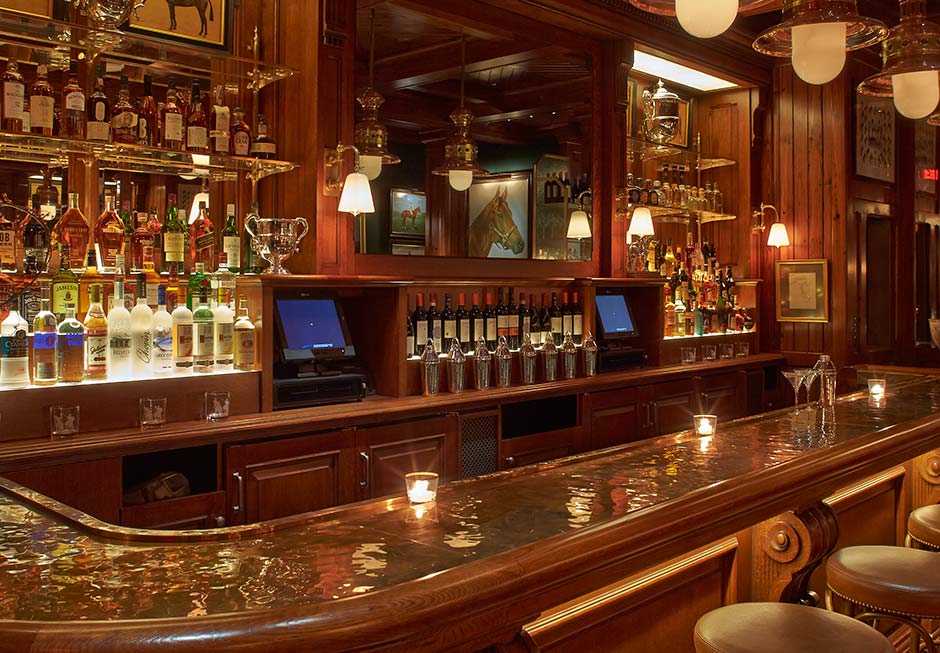 Once everyone in your party arrives, you are invited to the dining room downstairs, where again you are greeted by lovely hostesses who escort you to your table. The restaurant is not too big, so it has a very cozy feeling, especially because of all the dark wood, the caramel colored leather benches and decorations including the polo match mural on the exterior to the saddle leather and equestrian art inside, that pay homage to the sport of polo. The restaurant itself was inspired by classic New York establishments and Ralph Lauren's love of gathering around the table with friends and family.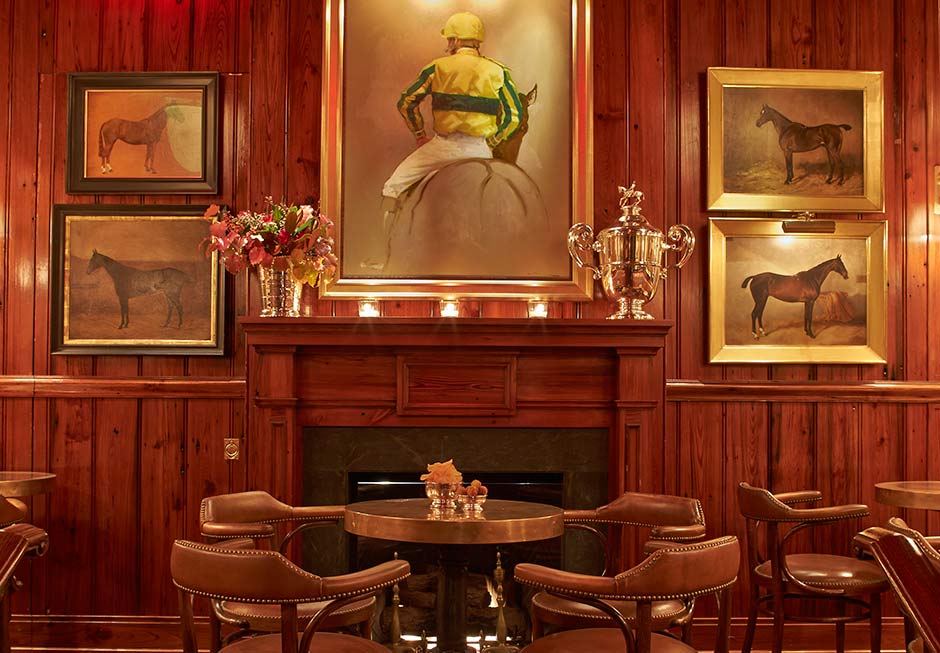 After reading the menu, which includes classic dishes many of Ralph Lauren's personal favorites. Our waiter, impeccably dressed, came to take our order and told us the specials for the night. We began with a few appetizers to share, some outstanding jumbo white asparagus with herb dressing, the traditional tuna tartar with avocado, mustard greens & crispy shallots with a soy ginger dressing and an interesting mix of crispy calamari and artichoke with jalapeño mayonnaise. Every single dish is served in engraved plates with the words The Polo Bar on top, making it visually appealing and perfect for foodie pictures. That evening, the Santa Fe Burger with crispy onions and BBQ sauce was the one of specials. I had previously read that the burger is the restaurant's signature dish, and this option sounded like it had a great spin to it so I ordered it. I can certainly state this was one of the top 5 burgers I have ever eaten.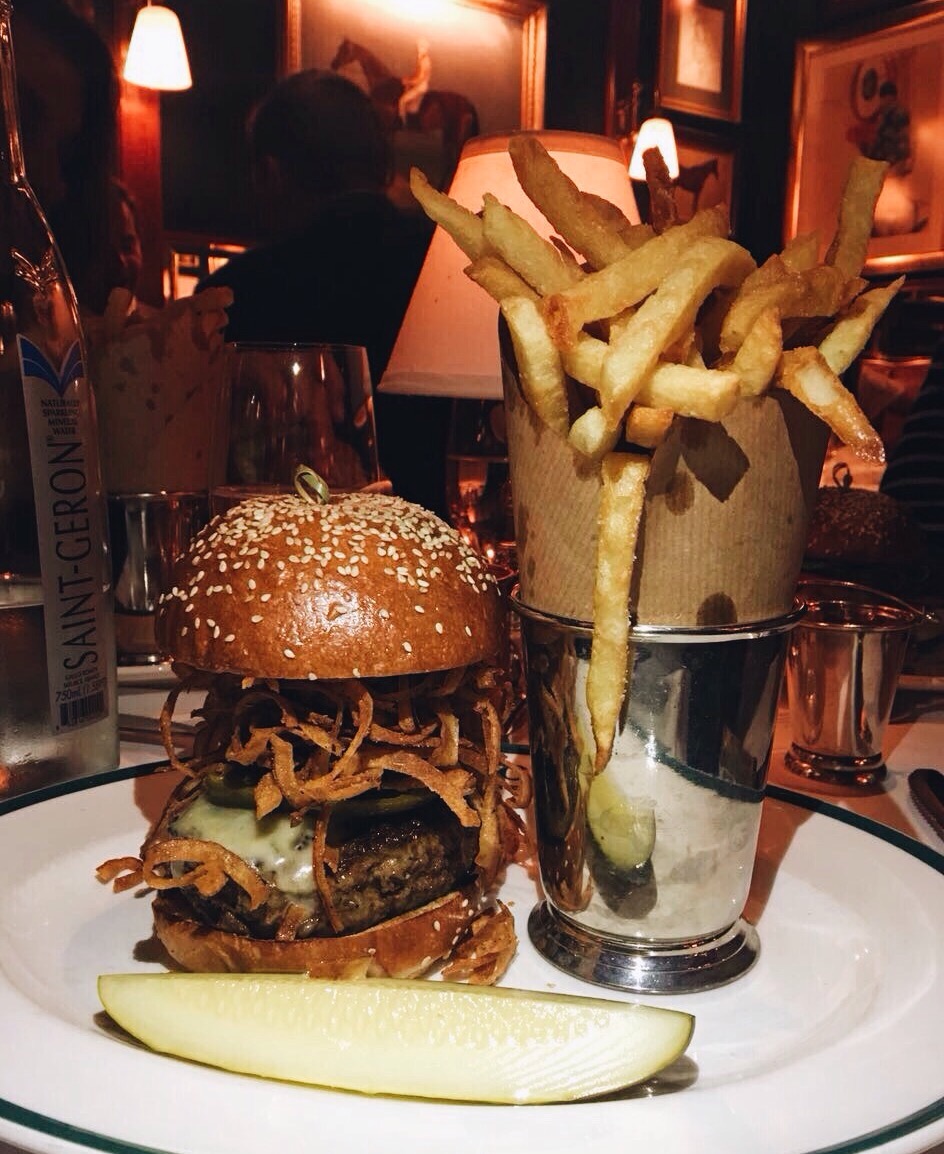 If you are not a big hamburger fan, fear not. There are plenty of options you can choose from including the Kale salad, the corn beef sandwich, the roasted chicken with mashed potatoes and the dover sole with Meyer lemon butter sauce. Depending on the time of year, The Polo Bar sometimes serves beef from the Ralph Lauren ranch in Colorado, so maybe you'll get lucky and get to try it! If you do please email us and let us know how it was. For dessert you cannot miss The Polo Bar Brownie with walnuts, vanilla ice-cream and warm chocolate sauce or the homemade Ralph's Coffee Ice Cream with Ralph's custom coffee blend.
The Polo Bar in New York City is Ralph Lauren's third restaurant, after RL Restaurant in Chicago and Ralph's in Paris. The Polo Bar is an  ideal place to see and be seen, and great option to visit during a special occasion with friends and family.  Make sure you reserve in advance so you can secure a spot to eat one of the best burgers of your life!
Featured Image Courtesy of The Polo Bar