Why would a Mexican, still living in her homeland, would try a Mexican restaurant when on vacation in New York City? Well, this is exactly what went through my mind as I was planning a recent trip to New York. Although there are a vast number of outstanding restaurants in the Big Apple that I wanted to try, to be completely honest, I couldn't resist the urge of discovering what Cosme was all about. With the entire buzz around Chef Enrique Olvera's first restaurant in NYC, it just couldn't pass unnoted. Such is the case that many other fellow countrymen share the same curiosity as myself. To the point that the day I dined at Cosme, I ended up being sitted next to my neighbors from Mexico City, what a coincidence!
Here are six reasons why you should go to Cosme next time you're in New York.
#1 Enrique Olvera is set to conquer American's palates
Lets begin with Enrique Olvera, the chef and creator of Cosme. Olvera is one of the best chefs in the world with numerous award-winning restaurants across Mexico. From Manta in Los Cabos, his flagship Pujol in Mexico City and Maíz del Mar in Playa del Carmen each and every one of his restaurants has a unique touch and showcases the freshest ingredients based on the location.
For a "chilanga" or Mexico City native like myself, when you hear the name Enrique Olvera you automatically relate it to Eno, his cafeteria-type restaurants that have become the go-to place to enjoy molletes for breakfast during the weekends. Think of Danny Meyer's Shake Shack.
Cosme, his first project outside of Mexico is revolutionizing Mexican fine-dining in the US, conquering one palate at a time. Similar to what he has achieved amongst local with his array of food spots in the country.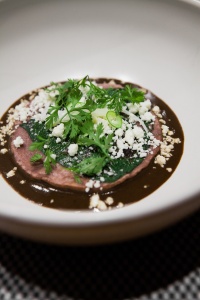 #2 Cosme is the perfect mix between casual and fine dining
Its one of those restaurants where you don't have to dress up, but you still get the five star experience, food and service-wise, as if your suited up. I strongly dislike those snobbish restaurants that oblige you to wear a jacket. Who wants to travel with a jacket when you are on personal vacation! Cosme delivers an overall casual atmosphere in a dim modern setting. If you are one of those diners who live by the motto "If the music is too loud you're too old" I am happy to say you will find the noise level bearable.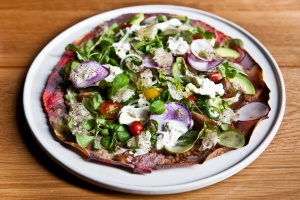 #3 Sharing is caring
Cosme's menu is designed in such a way that diners are recommended to order between two and three plates each to share amongst the table. I personally love this serving style because you can try more dishes and flavors. I dined at Cosme with a party of four and we ordered six plates total, which was the perfect amount to let us try some of their spectacular desserts.
With this menu layout in mind one of their signature dishes is the duck carnitas which are designed to be shared between a minimum of two people. This dish, which comes accompanied with hand-made tortillas, is perfect for taco-making while you enjoy the soft duck meat, which melts every time you bite into it.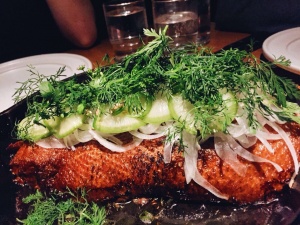 #4 You can't miss the tequila and mezcal selection
The vast assortment of tequilas and mezcales Cosme offers, make the decision on what to drink a rather tough one. I suggest getting one of their cocktails, either the Scoville Sour (Serrano or Guajillo or Arbol chile, infused Siete Leguas, lemon juice, agave and spiced cucumber) that's a bit spicy, or the Striptease (Vida Mezcal, Dolin Blanc Vermouth, guanabana, lime, absinthe salt) that's on the sweeter side. If you are visiting Cosme's bar, you can also enjoy some of their dishes in this section of the restaurant. Please stay away from the guacamole as there are much better things on the menu.
#5 You will find traditional dishes using distinct ingredients
Starting with a scallop aguachile instead of the traditional shrimp aguachile, every plate you order will be better than the previous one.  The enfrijolada, a popular breakfast dish is served with ricotta cheese. The spelt esquites have a green color because of the epazote (type of herb) they use to cook this dish with. The octopus is served with a hazelnut mole sauce, although we are used to eating chicken with mole this combination is extremely tasteful. Lastly, you will be delighted with the carnitas with onions, radishes and salsa verde prepared with duck rather than pig meat.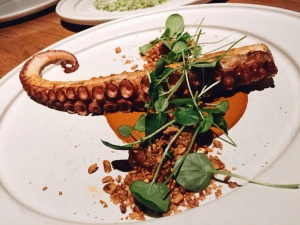 #6 The desserts are to die for
When we asked our waiter which dessert was the best one on the menu, she automatically answered, "You must order the most instagrammed dish of the restaurant" also known as the husk meringue. This sweet crackly meringue is filled with a smooth, lightly flavored corn mousse creating a delightful dessert.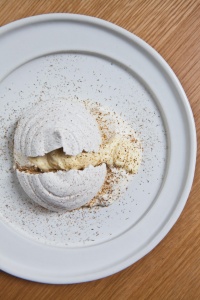 The fried cinnamon tamal with Mexican spiced chocolate resembled the delicious churros from back home. If you are more into a fruity type dessert, look no more than the mandarin raspado (shaved ice) with hibiscus and brown sugar vanilla ice cream, it's so refreshing and light!
Not only would I definitely recommend Cosme to other Mexicans visiting New York City, I can't wait to go back and try the rest of the dishes I didn't get a chance to taste.  Cosme is definitely becoming a trendsetter for Mexican restaurants in the United States and Enrique Olvera is nailing it north of the border.