Some people might say Shanghai is the "New York" of China, by being the most cosmopolitan city in the country. Shanghai is the financial hub of one of the largest countries in the world, and has an exciting gastronomy scene thanks to the mix of traditional cuisine and contemporary restaurants concentrated within the distinct city's neighborhood and concessions (what used to be ceded territories to other countries).
The moment I walked into my room at the Peninsula Shanghai, I was welcomed with an amenity that included tortilla chips, authentic Mexican salsas and two Sol beers, a major beer brand in Mexico. This unique detail made me forget that I had just traveled for 20 hours straight!! Although at that moment, I thought I would prefer some traditional Chinese dishes, after three weeks in Asia I was dreaming about that amenity!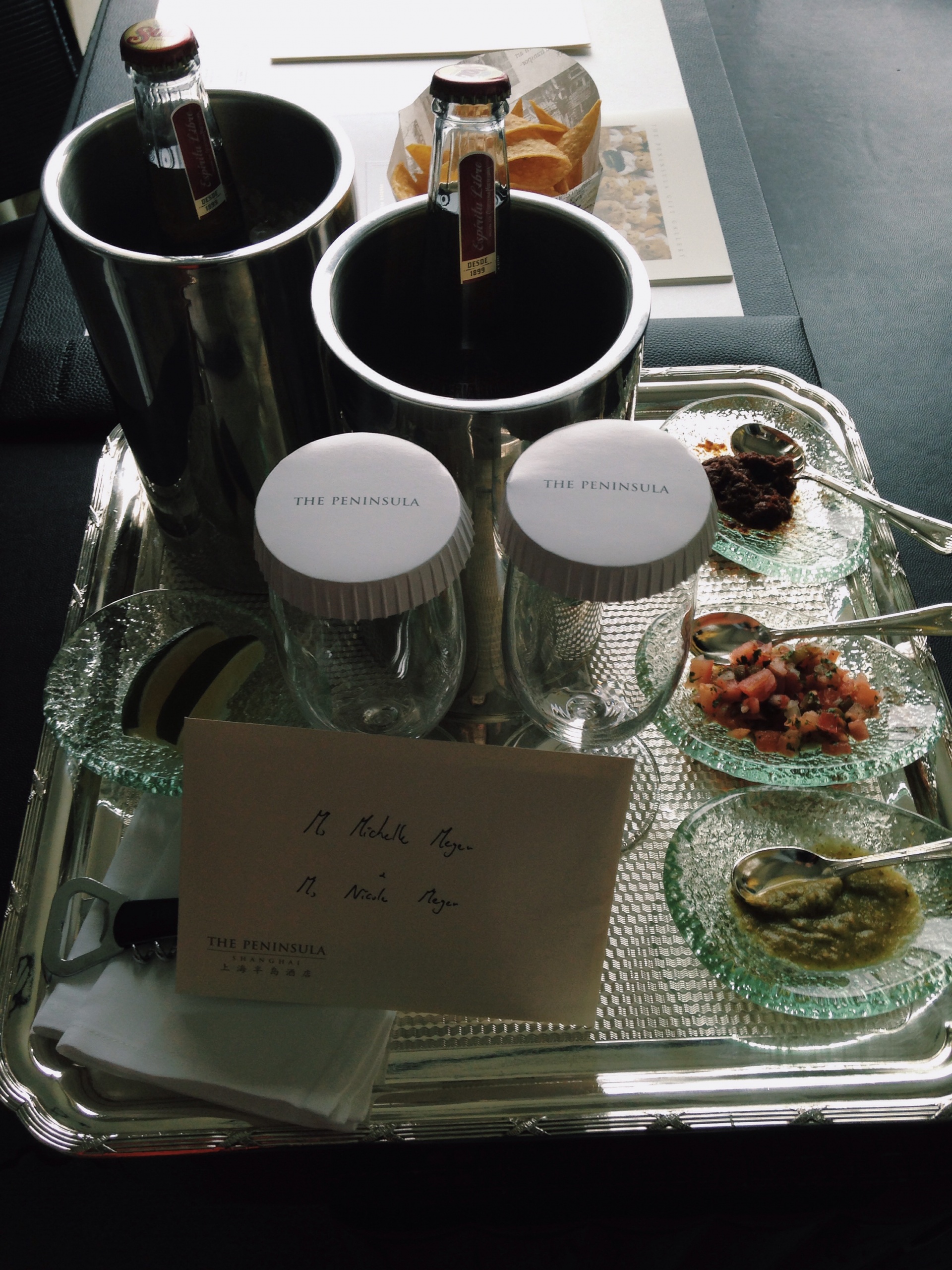 If you are a first-timer in China I strongly recommend going for a tea tasting at a traditional tea house, this way you can understand the tea culture and try the different varieties of tea Chinese people drink. I particularly enjoyed the tea tasting at the Yu garden a famous tourists attraction in the city. We watched how they prepared the kettle and warmed up the cups before serving the tea, this way the tea stays hot while you drink it. I loved how the jasmine flower opens up when you place it in the hot water, not only does it look beautiful it tastes delicious. My personal favorites were oolong, jasmine and black tea with lichee. If you enjoy any of the flavors, you can buy some tea to take back home.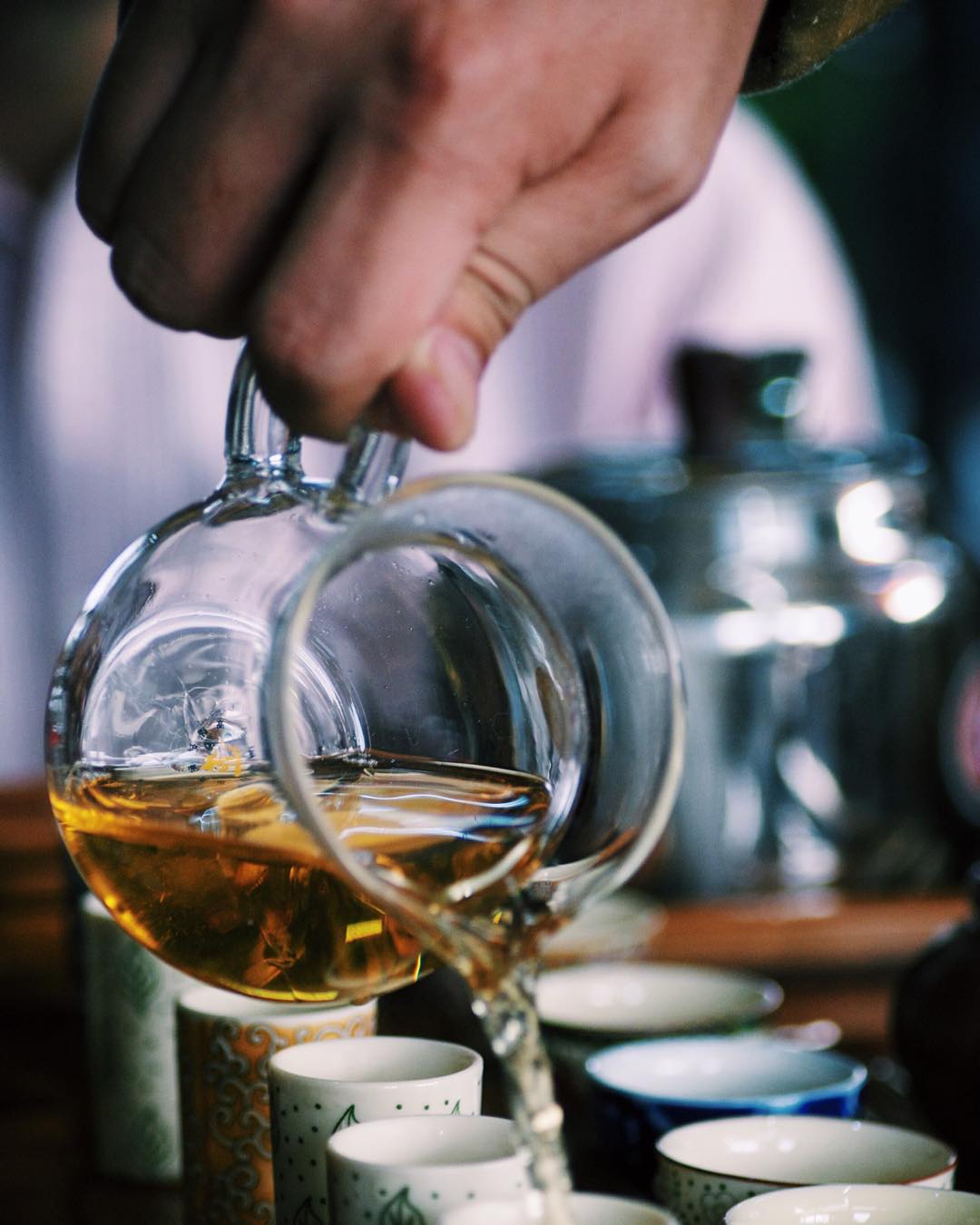 One of your first meals will probably be dumplings (small pieces of dough wrapped around a filling) as they are one of the most popular dishes in China. Dumplings can be either pan-fried or steamed, the last one being the most common way to cook them. If you have the opportunity, try both types of dumplings as they taste very different. To try steamed dumplings, go to Din Tai Fung restaurant, they have many locations around Shanghai and the rest of China. This restaurant is ideal for Westerners as their menu has pictures and is easy to understand and the staff speaks basic English. To try pan-fried dumplings go to Yang's dumpling, this is a local fast-food type restaurant with outstanding vegetable dumplings.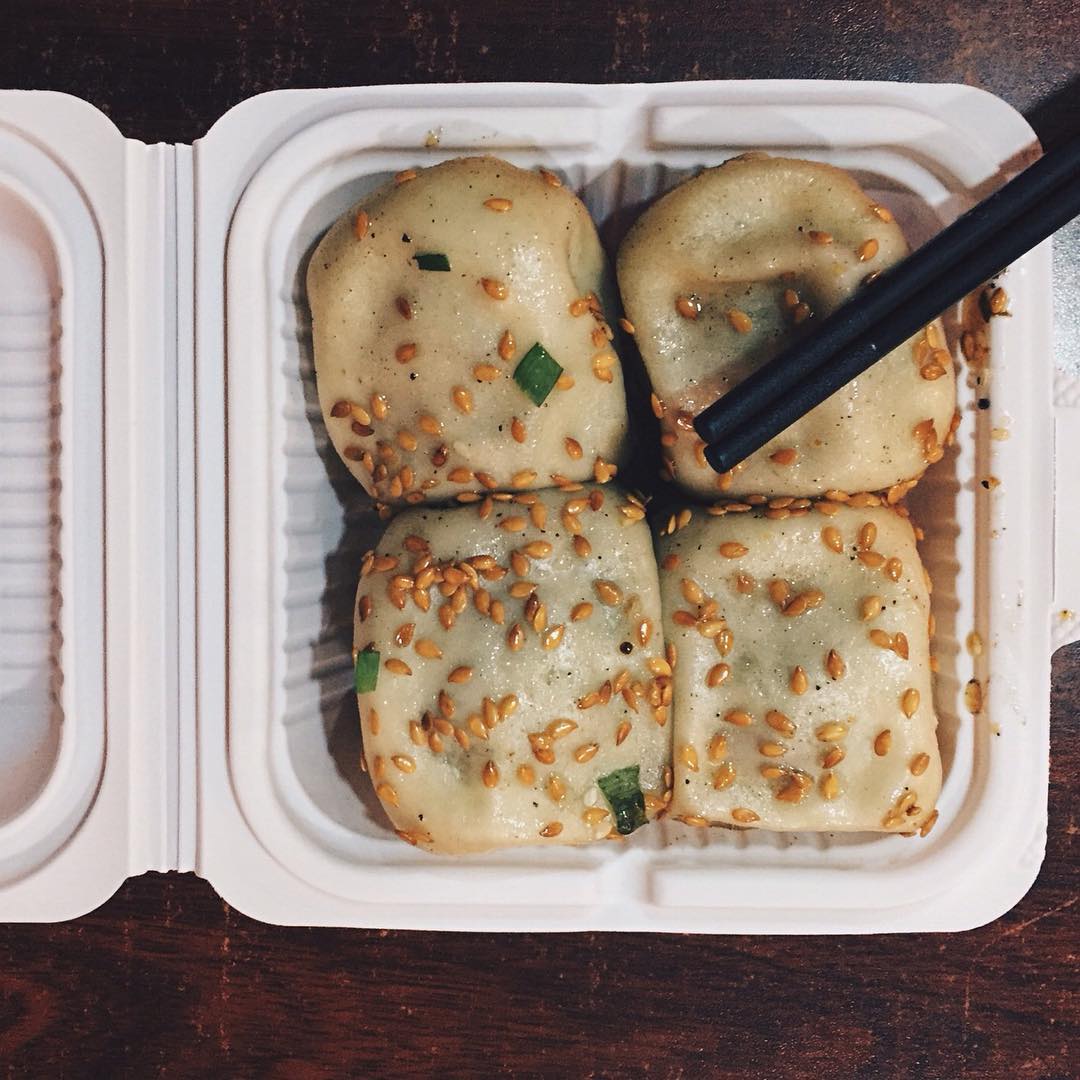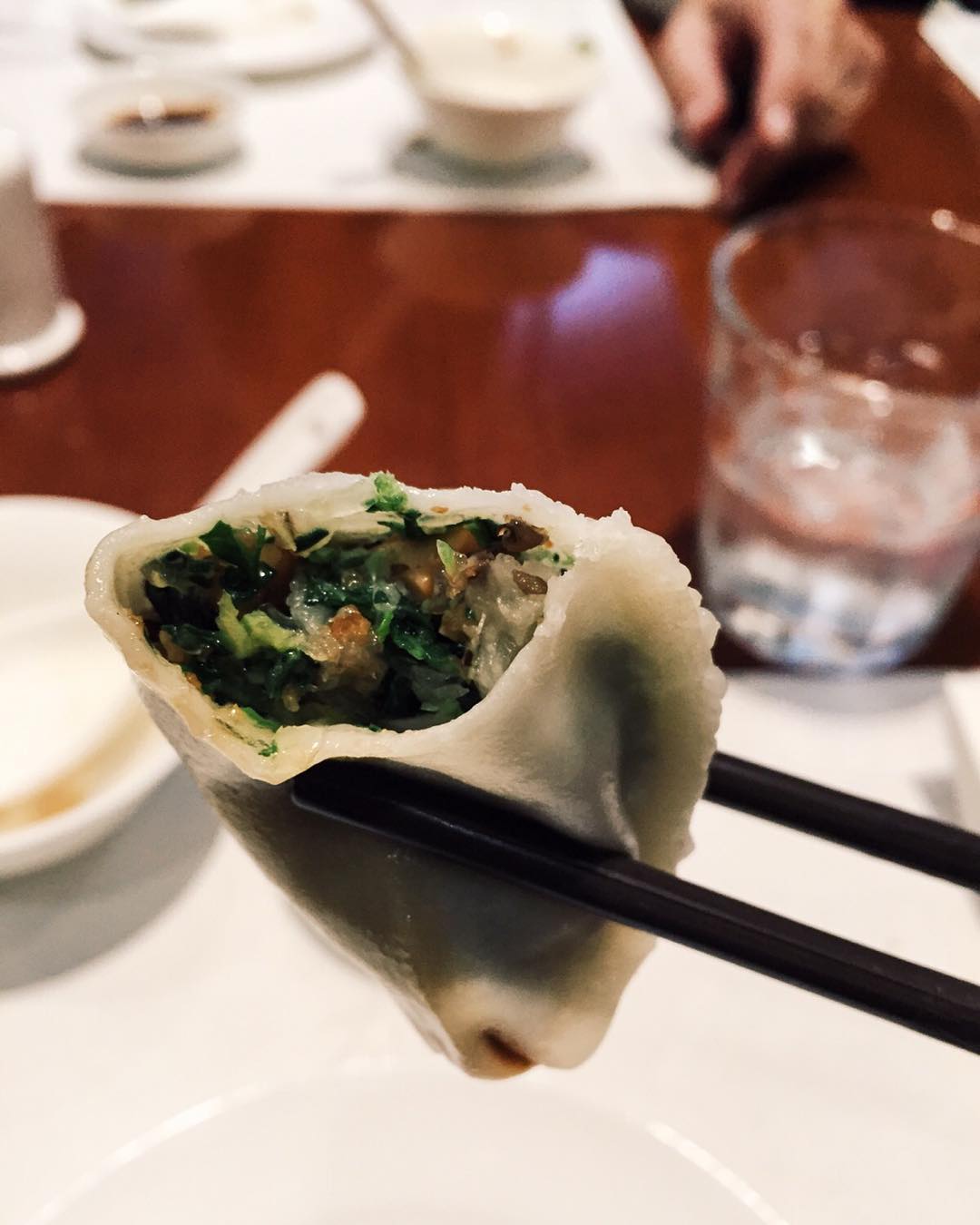 If you happen to be in Shanghai during fall or early winter make sure you try the hairy crab's which is a season's delicacy and a favorite among Chinese. You can find dumplings filled with crab or even vegetables such as asparagus with crab sauce during this season.
Another side of Chinese food is their spicy and condimented dishes from other provinces such as Yunnan. If you are into hot food definitely try out Lost Heaven. When you walk in you might feel this is a tourist trap but it its a top choice among locals. This restaurant also has a menu with photographs which makes it easy for tourists.
One of my favorite aspects of Shanghai is the ample variety of western food restaurants you can enjoy. At first when people said that after a few days we would be craving international food I didn't believe them, but they sure where right! Sadly, I didn't have enough time to try them all out, but I did visit Mercato a casual Italian restaurant by Jean-Georges (the award-winning French chef) which was outstanding! If you have enough time in the city, you might also want to try Mr. and Mrs. Bund, Chi-Q Korean BBQ, Bar Rouge and 1221.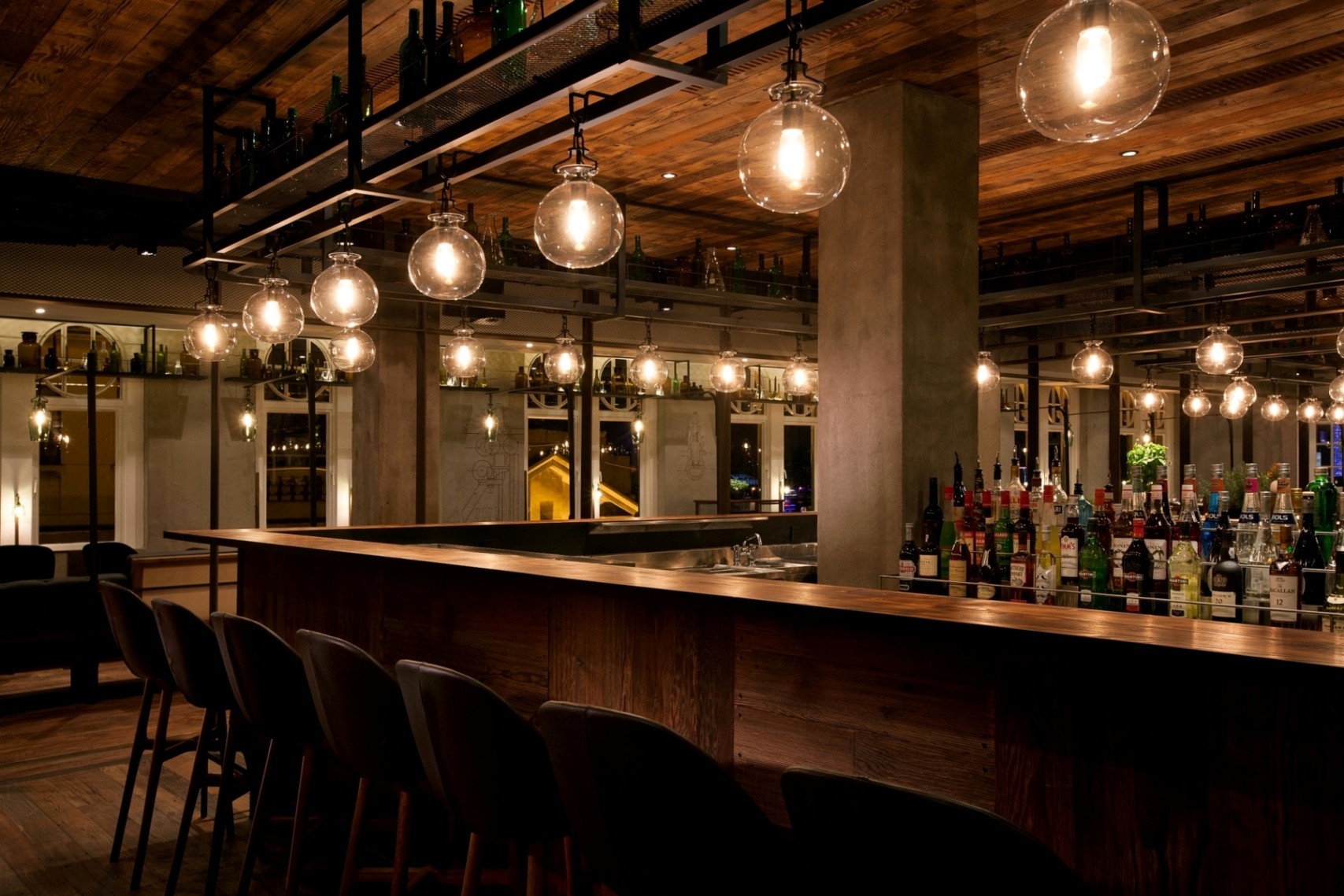 I can definitely say Shanghai is one of those cities where you can keep going back and discover new, trendy and delicious restaurants! I loved the city so much that I can't wait to go back.