Our first day in Beijing was a very exciting one. Previous to arriving, we had read that the weather was going to be colder than in Shanghai (the first destination on our trip), but I don't think we were really prepared for what it was really going to be like. Our first stop in the morning was the Forbidden City, which is nothing short of amazing. The sheer size of the place is astounding, you can read all about this site in our post on Beijing. We were outside for a little more than an hour in freezing temperatures.
I mention the weather because it is critical that you understand how cold we were and how much we were looking forward to just being inside for a little while. When the guide told us we were close to the restaurant, it was the best news we had heard all day.
We finally arrived to a very modern restaurant in the middle of what looks like a local road. As it turns out, the building used to be a television factory which produced the city's first black and white TVs. The Australian architectural and design firm Hassell designed the restaurant; it is very modern and clean with a lot of natural light. All in all, a great place to enjoy a wonderful meal.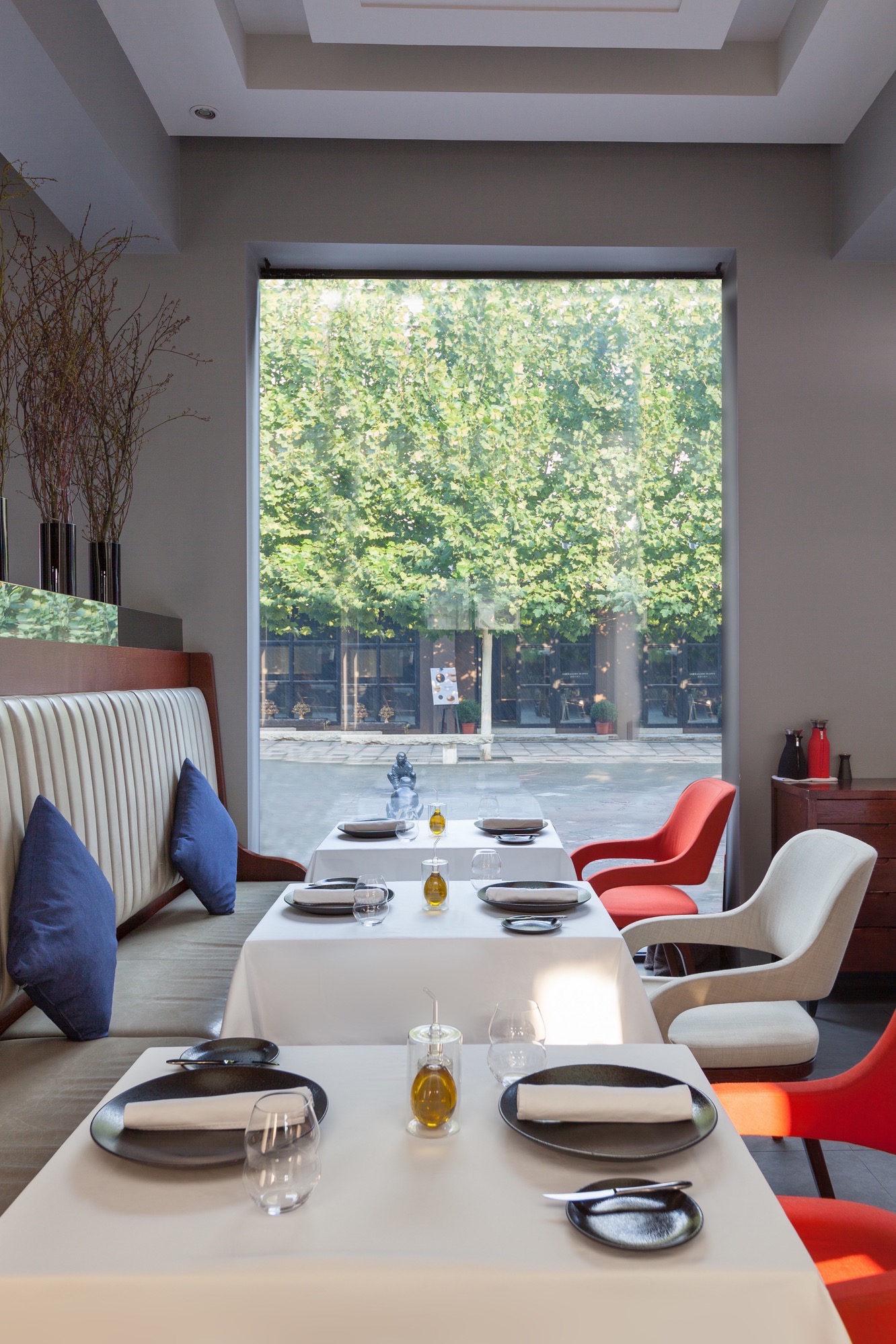 We were ecstatic to finally be inside. As we walked to our table, I could see everybody's plates and everything looked better than the next. As we sat down, a very kind and pleasant lady (we later learned her name is Sarah and had come from France to work at the restaurant with her friend, the head chef Ignace Lecleir) took our drink orders and handed us the menus.
The menu is always changing due to the influence of visiting chefs, so you might not get the same one we did, but rest assured that it will be delightful. We were there at noon, so we got the brunch menu and everything looked mouth-watering. They started us with a superb breadbasket, which they refill without being asked, so save some room for the food!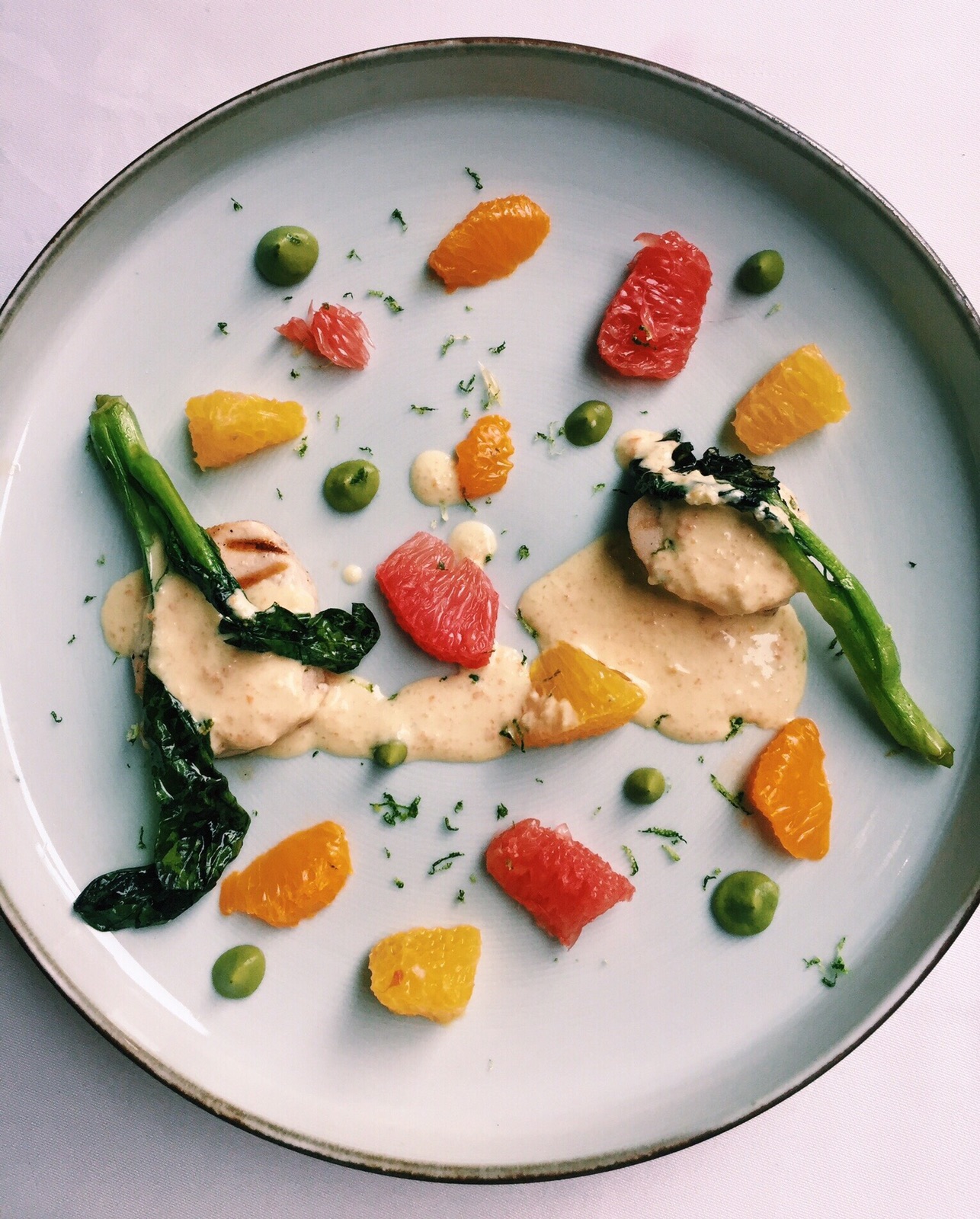 I ordered the Pumpkin soup with mascarpone cream and parmesan cheese, the grilled white tuna with citrus fruits and ginger-honey eressing, the penne bolognese, the slow-cooked sea bass with celerisotto and a parsley emulsion and finished with the cheesecake. Keep in mind this is a contemporary European restaurant with a French head chef, so if you like hearty quantities this restaurant might not be for you. Although I have to say we left very satisfied, so don't be scared by the amounts shown on the photographs.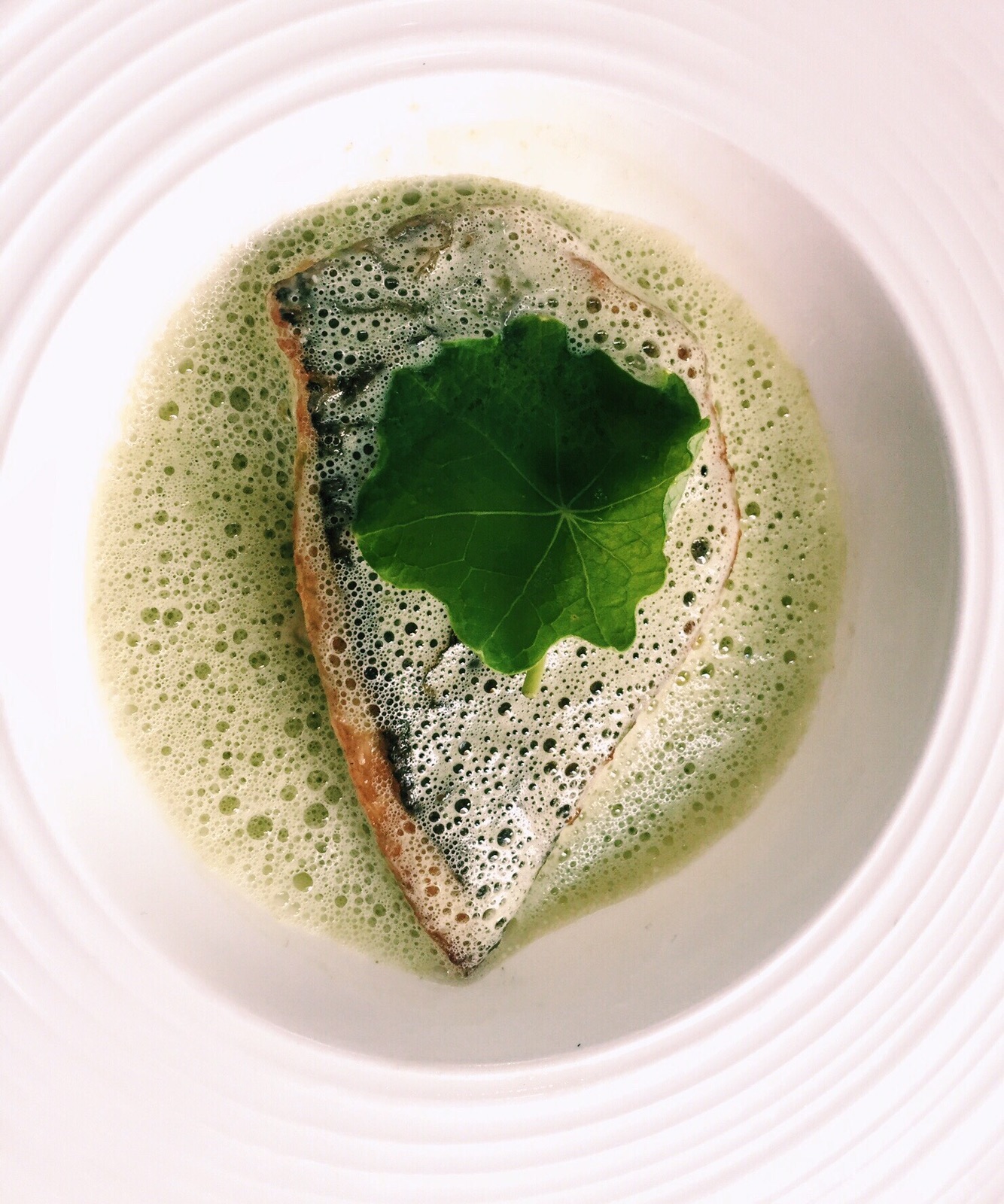 Every single plate was absolutely delicious. The presentation was nothing short of art, and the flavors in each dish worked together wonderfully. My favorite dish was the slow-cooked sea bass, but I had trouble deciding because everything was so good. We did not all order the same thing, so I was able to try the foie gras terrine with white chocolate and green apple, and the corn soup with creamy polenta, both of which were also incredible.
By the end of the meal, Sarah became a friend, we were warm and ready to continue discovering the fascinating city that is Beijing.
Temple Restaurant Beijing is the complete package. Wonderful environment and atmosphere (lots of locals, which is always a good thing), superb service and extraordinary food. It also has a very extensive wine list that has been curated by their three in-house sommeliers. I would definitely recommend you put this restaurant on your list for when you visit Beijing!
http://www.trb-cn.com/restaurant/
by: Nicole Meyer
Nicole Meyer grew up in Mexico City, with a family who always loved to travel, experience new things and dine out. After high school, she moved to Washington DC, where she currently attends George Washington University. Nicole never misses a chance to try a new restaurant and experience new flavors. As DC's culinary scene grows she loves to follow it along. Stay tuned for reviews on the latest and best restaurants of the district.